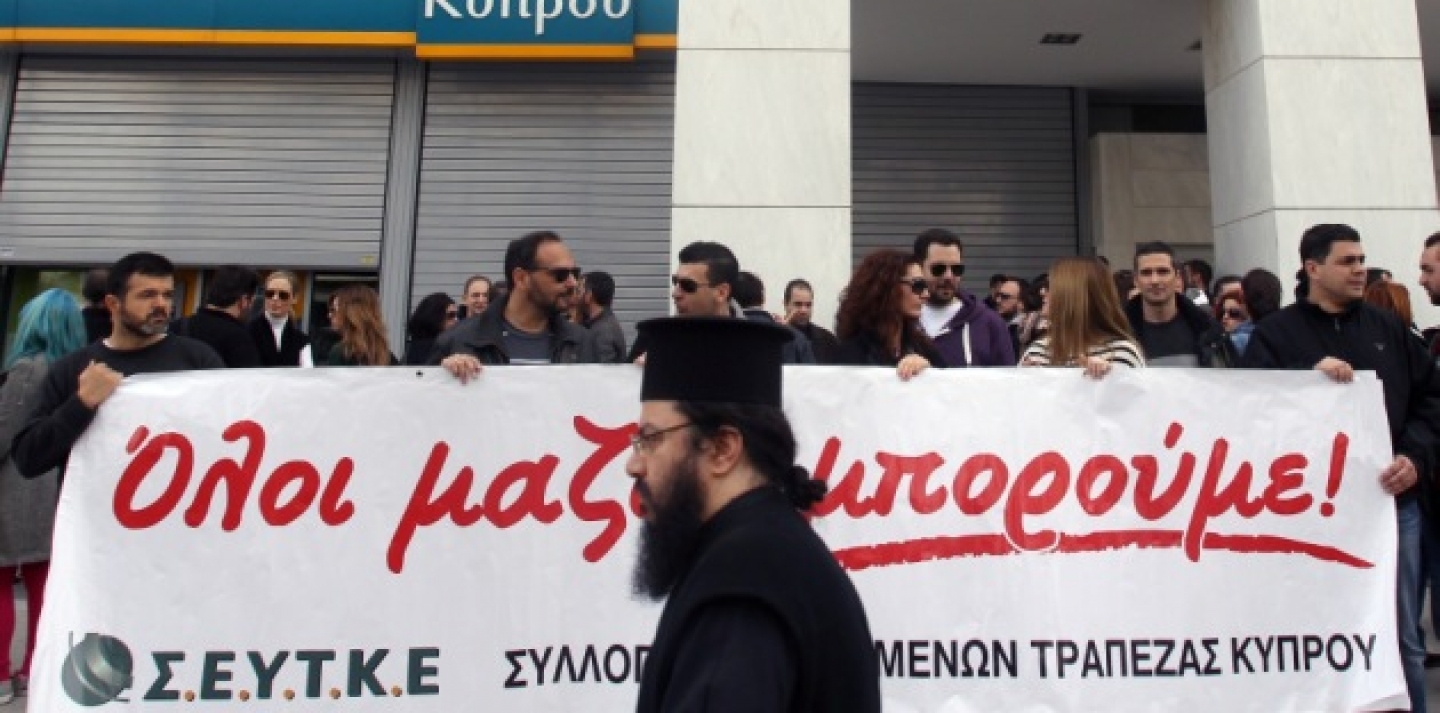 Cyprus, a small island of one million people, has very large banks. In fact, the banks have the wealth of eight times the entire Cypriot economy.
 Obviously, this doesn't add up and that's because Cyprus has become an offshore financial centre, offering a haven for money transfers, money laundering, and Internet banks. Foreigners from Russia, worth nearly €20 billion, have been attracted to these lax rules in setting up bank accounts that accompany low corporate tax rates.
 Not surprisingly, 40 percent of all Cypriot bank deposits are foreign owned making them an easy target to raise funds. But there's another reason that the Cypriot government has chosen this route. The perception of European Union (EU) countries is that some of these Russian depositors may be shady characters linked to either criminal activity or government cronies that deposited corrupt funds.
Few democratic EU creditors, particularly the Germans who face an upcoming election, want to bail out Cypriot banks to safeguard Russian assets. Not especially when the EU already has a less than friendly relationship to strongman Putin, who played musical chairs with his now prime minister and who unabashedly supports the despised Syrian regime
 The troika creditors, the EU, the International Monetary Fund and the European Central Bank, will only give Cyprus money needed to recapitalize its distressed banks if it can reduce their overall debt burden to 60 percent of GDP and raise €5.8 billion. There are few state assets or valuables that can be used to raise the funds needed.
 Usually, governments have forced its own creditors, like those holding government bonds, to take a "hair cut" by then returning less on the interest or principal that was promised. Raising taxes on citizens to generate government income has been another common route taken in previous EU bailout. But with such a small population, this isn't an easy way to raise the necessary funds.
 This levy presents a first of its kind in managing the contemporary EU debt crisis; in 1990, Italy had a similar bank tax but the amount was less painful at 0.06 percent. The Cypriot plan would have required all depositors to forgo nearly seven to 10 percent of their deposits toward the government debt write-down. This measure would face a number of potential legal contentions, as the EU passed a 2008 depositors insurance law that guaranteed up to €100,000 in each bank account.
 This is why the Cypriot legislature, sitting for only a month, rejected the plan and may reconsider the universal application of the government levy and instead apply this only to those accounts over €100,000. Protecting these smaller mainly domestic depositors, this might then raise the percentage on large, presumably foreign, depositors to even 15 percent. No wonder Russian President Putin said this was "unfair, unprofessional and dangerous."
 For the first time, the small island of Cyprus, with less than two percent of the European economy, might be shifting the burden or passing the buck on to Russia. Wealth and international politics at play.....
Few democratic EU creditors, particularly the Germans who face an upcoming election, want to bail out Cypriot banks to safeguard Russian assets.