New York, NY, and Waterloo, Canada — January 17, 2013 — Three Canadians are among 29 recipients of a total of $2.7 million in grants for research projects, announced by The Centre for International Governance Innovation (CIGI) and the Institute for New Economic Thinking (INET).
The grants are part of the 2012 round of the CIGI-INET research grant program, aimed at finding solutions for the world's most pressing economic problems.
The Canadian recipients are: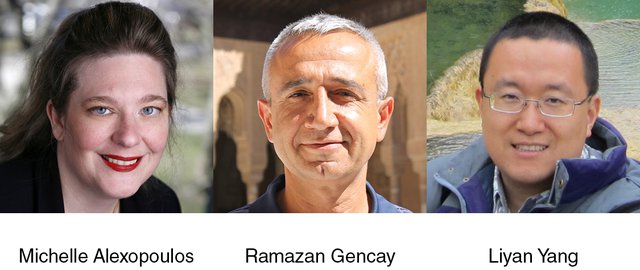 Digitally Tracking Technologies and Their Effects Across Time and Space
Michelle Alexopoulos, University of Toronto
Identification and Modeling Risk Cascades with Dynamic Network Models
Ramazan Gencay, Simon Fraser University
Contagion of Sentiment, Investor Trading Activities, and Financial Crises
Liyan Yang, Rotman School of Management, University of Toronto
CIGI, based in Waterloo, Ontario, is an independent, nonpartisan think tank addressing international governance challenges. INET, based in New York, is an organization created to promote changes in economic theory and practice through conferences, grants, and education initiatives.
In response to the inadequacy of existing economic knowledge, as revealed by the global financial crisis, the CIGI-INET grant program identifies key areas in economics that require significant attention and supports the research that addresses these gaps.
"Events as diverse as climate change, the ubiquity of the internet and the most recent financial crisis are indications of the sorts of challenges that economists face in using the right tools to design solutions to the world's most pressing problems," said CIGI President Rohinton P. Medhora. "The CIGI-INET Grant Program provides an opportunity to young scholars to continue to shape their profession for the next generation of issues scholars and practitioners will face."
""These 29 grants were carefully targeted to tackle a key set of economic issues," said INET President Robert Johnson."They all challenge conventional economic thinking in important ways. These key themes include critical and underserved issues like innovation and inequality, as well as topics where economic thinking has stagnated and failed to keep up with the real world, like financial instability and the governance of international monetary systems. This research will help fill in the blindspots and silences in current economic thought and push the frontier of economics to address the important issues of the 21st century."
CIGI MEDIA CONTACT:
Declan Kelly, Communications Specialist, CIGI
Tel: 519.885.2444, ext. 7356, Email: [email protected]
INET MEDIA CONTACT:
Eric J. Weiner, Senior Editor and Director of Communications, INET
Tel: 212.493.3327, Email: [email protected]
The Centre for International Governance Innovation (CIGI) is an independent, non-partisan think tank on international governance. Led by experienced practitioners and distinguished academics, CIGI supports research, forms networks, advances policy debate and generates ideas for multilateral governance improvements. Conducting an active agenda of research, events and publications, CIGI's interdisciplinary work includes collaboration with policy, business and academic communities around the world. CIGI was founded in 2001 by Jim Balsillie, then co-CEO of Research In Motion (RIM), and collaborates with and gratefully acknowledges support from a number of strategic partners, in particular the Government of Canada and the Government of Ontario.
The Institute for New Economic Thinking (INET) was created to broaden and accelerate the development of new economic thinking that can lead to solutions for the great challenges of the 21st century. The havoc wrought by our recent global financial crisis has demonstrated the deficiencies in our current economic theories and shown the need for new economic thinking. INET is supporting this fundamental shift in economic thinking through research funding, community building, and spreading the word about the need for change. We already are a global community of thousands of new economic thinkers, ranging from Nobel Prize winning economists to teachers and students who have emerged out from the shadows of prevailing economic thought, attracted by the promise of a robust economic discourse. Our mission is to nurture a global community of next-generation economic leaders, to provoke new economic thinking, and to inspire the economics profession to engage the challenges of the 21st century.