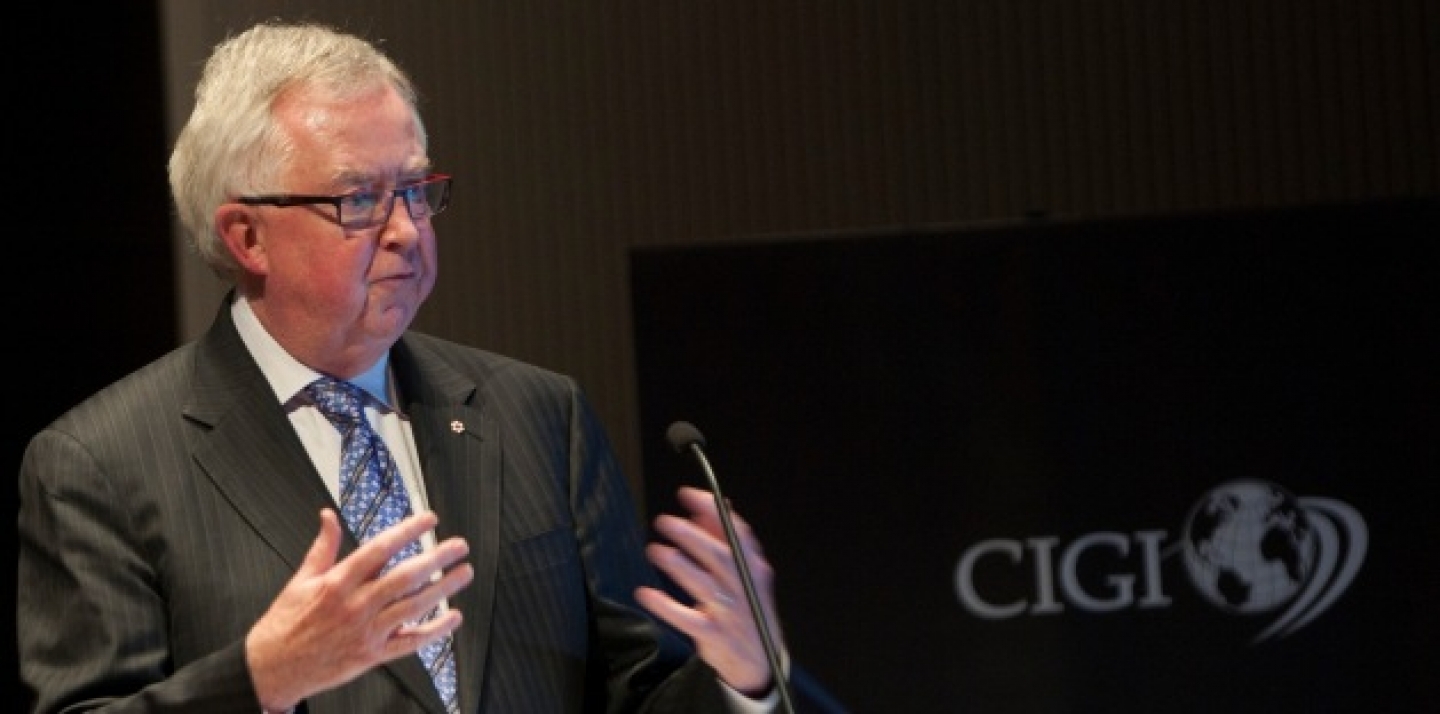 Last week's CIGI Signature Lecture featuring the Right Honourable Joe Clark reminded me of fundamental lessons in political science I learned some years ago: who holds power (in its soft and hard forms), how it's distributed and used within political systems has undeniable impact on which objectives are accomplished and how goals are met. Interesting considerations start to arise when power relations shift and actors (whether they be new or not) find themselves in new-found roles.
Canada's former Prime Minister, who also served as foreign minister and minister of constitutional affairs, spoke to a sold-out auditorium on the value of engaged leadership and the role that actors can have within an international system that has been changing since the end of the Cold War.
Quoting a 2003 Goldman Sachs report that predicts by 2050 the majority of the world's largest economies will belong to non-Western countries, Mr. Clark argued that opportunity is arising for Canada and other capable countries to step-up and take the lead on critical issues and challenges. More importantly, however, Mr. Clark stressed a shift in power that has and will continue to take place between state and non-state actors, where civil society groups, not-for-profits and multinational corporations are playing an increasingly important role and allowing for leadership from beside. He quoted a Global Trends report from 2009, which says that of 44 of the world's largest 100 economic entities are corporations.
These shifts, combined with technological advancements and changes in the source of global conflicts (think of culture, identity and faith rather than Cold War alliances), are creating immense potential for Canada to re-mobilize its international capacity to build consensus and lasting arrangements. He pointed to the example of the Ottawa Convention, which established an international commitment to ban the use of anti-personnel mines. Indeed, Mr. Clark would like to see Canada "mobilize its soft power capacity to partner with our hard power," he said. "I understand that soft power is not favoured by the government of the day, but I expect it is still is favoured by the people of the country and we would be much better off with balance." To be a bit more specific, he listed three types of partners that Canada could pursue relationships with: like-minded countries (beyond our traditional allies) that are emerging or developing; multilateral groups like the African Union and Organisation internationale de la Francophonie; and non-state actors like faith groups, unions, science groups etc.
Prior to a discussion with the audience, he closed his address with some of his own questions for us to consider: Are we in a situation that parallels the post-1945 period — is now the time for leadership from beside? What models of partnership between state and non-state might work? Are non-state actors prepared to ally in any continuing way with governments? If the balance between state and non-state actors is going to continue to change, what role might Canada play in the marriage of mandate and imagination?
HAVE YOUR SAY: If you attended the lecture, caught the webcast or watched the archived video, we would love to hear your thoughts on the discussion. Start a dialogue by adding your comments below.