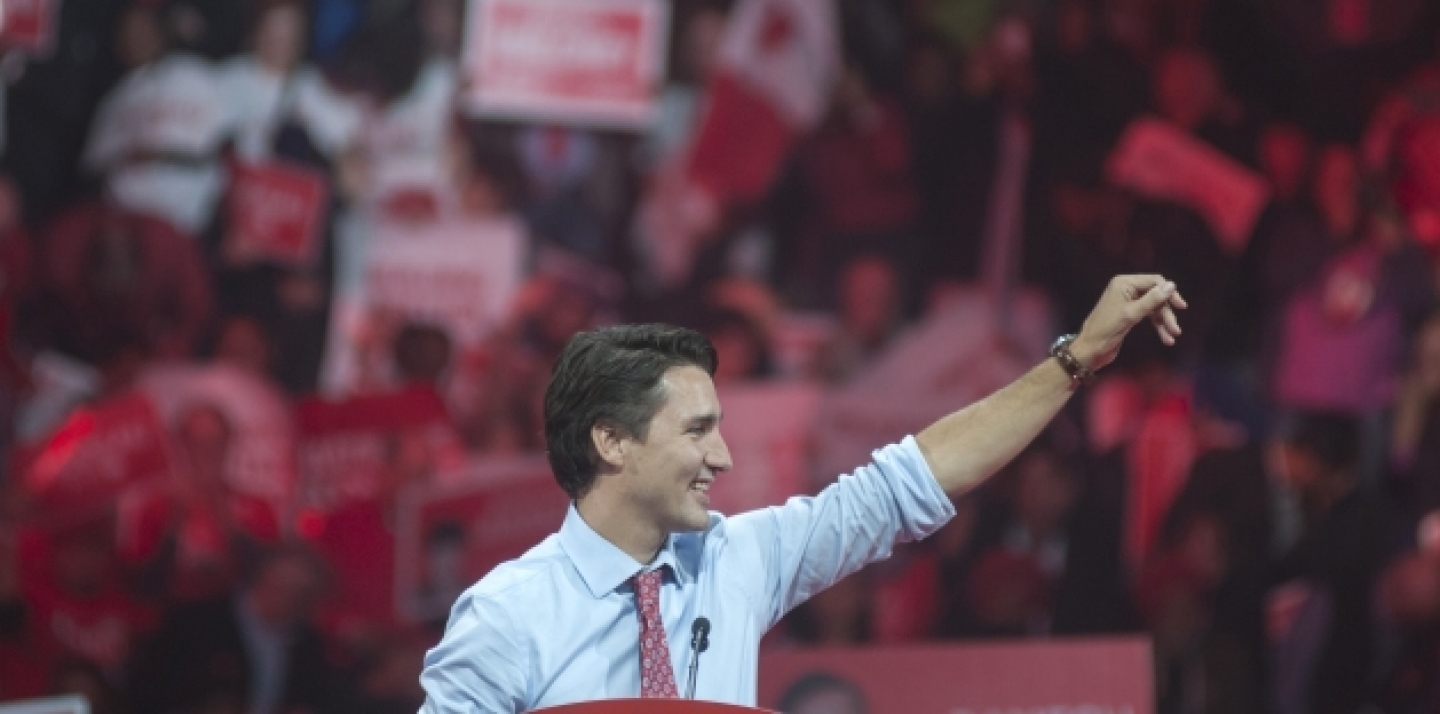 Earlier this week, Reserve Bank of India Governor Raghuram Rajan reflected on the wide gap between the ease of identifying the right economic policies and enacting them. Politicians know what they need to do, they just don't know how to get re-elected after they have done them, Rajan said at an event in Mumbai, borrowing the quip of Jean-Claude Juncker, the former prime minister of Luxembourg who now is the president of the European Commission.
There now is a counterpoint to the notion that sound economics makes for poor politics: Canada's election. Justin Trudeau's Liberal Party entered the campaign in third place in both Parliament and opinion polls. They ended with a majority government by daring to go where no other politician would. Trudeau pledged budget deficits, a third-rail issue in Canada since the mid-1990s. The country's political commitment to sound fiscal policy created the foundation for solid economic growth for nearly two decades. But the financial crisis changed things. Canada's exports of goods and services didn't recover with the rest of the economy. The collapse of oil prices exposed this fact to a larger public. There was nothing to offset the retreat in resource investment. Households were tapped out, with their debt-to-income ratios at record levels. The Bank of Canada cut interest rates twice in 2015, dropping its target to a quarter point above its lower bound.
The International Monetary Fund predicts Canada's gross domestic product will expand 1 percent in 2015, dropping the country to the bottom of the Group of Seven nations with Italy and Japan, and behind the United States, the United Kingdom, Germany and France. The IMF said the right policy for a country such as Canada -- slow growth, low debt -- was to increase spending on infrastructure, as the tax revenue from a stronger economy in the future would more than cover short-term deficits. The country's prime minister, Stephen Harper, ignored this advice. He insisted on balancing the budget ahead of the election even as the economy slowed. Tom Mulcair, the leader of the Official Opposition, raised no serious objections. The head of the left-wing New Democratic Party (NDP) criticized some of the Conservative government's choices, but stressed that he too favoured a balanced budget. Mulcair's "socialist" party often was attacked by opponents over a perception that it would abuse the public purse. The NDP made sure that wouldn't happen in 2015 by becoming a champion of fiscal prudence. It might have cost Mulcair a shot at the Prime Minister's Office.
Liberals won 184 of the 338 seats in Parliament, more than enough to form a majority government under Trudeau. The party also claimed 39.5 percent of the more than 17.6 million votes cast, a strong result in a contest that featured three major parties and two others that won places in the House of Commons. Harvard University economist Lawrence Summers sees lessons for other countries in Trudeau's victory. "In an era of extraordinarily low interest rates and slow growth, it is becoming increasingly clear that progressives do best when they reject austerity and embrace public investment," the former U.S. treasury secretary wrote this week. Summers observed that Britain's Labour Party made the same mistake as Canada's NDP by seeking to demonstrate fiscal fortitude by pledging balanced budgets. Summers, who has championed infrastructure spending to fight "secular stagnation", called on the men and women seeking the U.S. presidency in 2016 to take note. "More infrastructure investment is not just good economics," Summers said. "It is good politics."
Trudeau's platform would run deficits of $10 billion in each of the next two fiscal years, and would balance the budget in 2019. The money would be used to finance affordable housing, public transit, wastewater plants, roads and the like. Trudeau also pledged to create a federal infrastructure bank that would back investments by provinces and municipalities. Economists say the Liberals' spending plans could add half a percentage point to economic growth next year. For the first time in years, fiscal policy and monetary policy would be working in tandem. The Bank of Canada would be able to pause its stimulus efforts, which would be a relief, as ultra-low borrowing costs are the cause of households' debt burden and bubbly real-estate markets in Toronto and Vancouver.
Of course, winning the election was only Trudeau's first test. Now he has to match his performance to expectations. That means spending with haste, but not abandon. He promised "social infrastructure" alongside harder items such as bridges and metro lines. He would do well to limit the federal government's funding of community centres in favour of projects that promise to increase Canada's economic potential. An example of the later would be revamped ports that make exporters more competitive. Sticking to such a course could be politically difficult; community centres are popular and easy to build. Canada's new prime minister could have 183 Liberal members of parliament asking for one. Trudeau hasn't totally solved the Juncker riddle about getting elected, but he could be on his way to doing so.