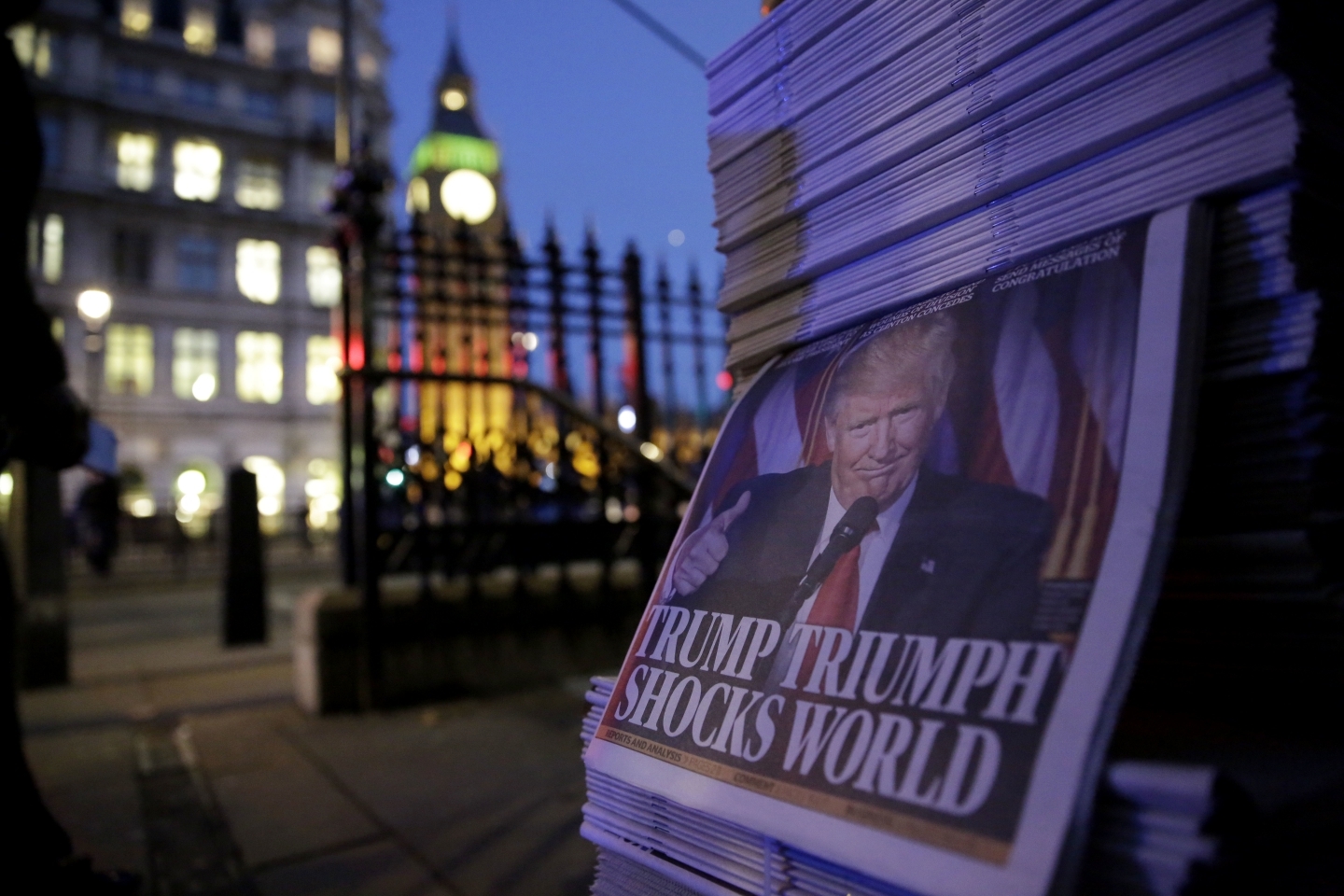 The American people have spoken and the shock waves are quickly spreading across the globe.
Donald Trump's convincing win against the odds rocked financial markets in Asia and sent the Mexican peso plummeting, although his conciliatory victory speech appears to have calmed investors' nerves.
Beyond the immediate market uncertainties, Trump's election as the 45th US president is already reverberating across the world, rocking mainstream parties and emboldening political insurgents.
With Europe still reeling from the shock of Britain's referendum decision to quit the EU,  Martin Schulz, German president of the European Parliament, summed up the sense of establishment dismay, calling the Trump victory "a wave of protest against established politics".
German Defence Minister Ursula von der Leyen said it was a "huge shock". There were calls for European foreign ministers to meet soon to consider the consequences.
Recognizing those fears, Trump reached out in his victory speech to reassure all Americans and the international community that it was "now time for America to bind the wounds of division" and that even while America came first he was not embarking on a mission to overthrow the established world order.
"I want to tell the world community that while we will always put America's interests first, we will deal fairly with everyone, with everyone. All people and all other nations. We will seek common ground, not hostility, partnership, not conflict," he said.
But the resounding success of populism in the US will surely boost the hopes of right-wing, anti-establishment and anti-immigration parties in a swathe of European countries holding elections in 2017. These include Germany, France, the Netherlands and Norway.
Marine Le Pen, leader of France's National Front, extended her congratulations to Trump before his victory was official. Beatrix von Storch, deputy leader of the anti-immigrant Alternative for Germany party, said: "Donald Trump's victory is a sign that citizens of the western world want a clear change in policy."
Such sentiments drowned out pro forma statements from heads of western governments that life would go on, with British Prime Minister Theresa May lamely noting that the UK and US "have a special and enduring relationship based on the values of freedom, democracy and enterprise".
Russia's Vladimir Putin – praised by the Republican candidate during the campaign for "his very strong control over his country" -- was quick to send his own message to Trump headquarters in New York, expressing the hope for better US-Russian relations. Ukraine, Georgia, and the Baltic States surely took note.
While the success of Trump's populist appeal may have the most immediate impact in a Europe that feels its own deep discontent with mainstream politicians, it is his policy decisions that could most shake up much of the world and its institutions of global governance.
Iran is to hold its presidential elections next May and Trump has pledged to renegotiate the nuclear deal that the Obama administration hammered out with the Islamic republic under its moderate president Hassan Rouhani. If that deal were to unravel then Iranian hardliners will surely be emboldened in their attacks on those backing closer relations with the US.
Trump appears to have adopted a less interventionist approach than Hillary Clinton in the Middle East, although he has said he would "bomb the shit" out of Islamic State, which is already under pressure in Iraq and Syria. Rebels in the latter hoping for a Clinton victory with her backing of a no-fly zone must be worried about a US president turning closer to a Russia that backs Bashar al-Assad.

Trade pacts, climate agreements, the United Nations and the fundamental principles underpinning Nato unity were all targeted and challenged by Trump during his campaign.
The business mogul has suggested climate change is a hoax. His promises to protect American coalminers and the fossil fuel industries could yet undo all of President Barack Obama's cherished efforts – eventually in partnership with China – to reach the Paris Agreement on global warming. That agreement has entered into force, but Trump's position now surely undermines the prospects of the US meeting its commitments to curb emissions.
While vague on how he might deal with such dangers as the proliferation of nuclear weapons – beyond getting China to lean more heavily on North Korea – Trump has been emphatic in his antipathy to globalisation and existing trade deals. True to his America First transactional approach to global affairs, he says he wants to renegotiate the NAFTA trade agreement with Mexico and Canada, and put the 12-nation Trans-Pacific Partnership (TPP) on hold. Trade is not just about protecting American jobs, however. Trump sees trade as a tool and weapon, warning China for example that its trading relationship would be damaged if it did not cooperate in curbing North Korea's nuclear programme.
In its first reaction to Trump's victory, China's foreign ministry resorted to the usual bland template it adopts when uncertain of how to respond, simply expressing the hope that bilateral relations would improve.  
Noting that the Republicans will also control both the Senate and House of Representatives, historian Simon Schama summed up the overall sense of shock in a BBC interview on Wednesday morning, calling the outcome a "genuinely frightening prospect".
"NATO will be under pressure to disintegrate, the Russians will make trouble, 20 million people will lose their health insurance, climate change (policies) will be reversed, bank regulation will be liquidated. Do you want me to go on?" he said.
Trump has said America can no longer afford to protect countries in Europe - and in Asia - without adequate compensation, suggesting he would withdraw American forces unless they pay up.
Donald Tusk, president of the European Council, issued a sombre statement. Europe, he said, would respect the democratic choice of the American people but were "at the same time aware of the new challenges that these results bring".
Tusk spoke of "this moment of uncertainty over the future of our transatlantic relations" and warned Trump – and other heads of government -- against isolationism. Europe and the US, he said, had no choice but to work together to preserve liberal democracy.
Tusk and Jean-Claude Juncker, president of the European Commission, formally congratulated Trump in a joint letter that listed the "unprecedented challenges" needing US-European cooperation – dealing with Islamic State, threats to Ukraine's sovereignty and territorial integrity, climate change and migration.
The letter invited him to visit Europe for a summit "at your earliest convenience".
Guy Dinmore spent 16 years at Reuters - with postings in London, Vienna, Poland, Beijing, Hong Kong and in Nicosia covering the Middle East and Africa - and 16 years at the Financial Times, joining in the Balkans, then moving to reopen the FT bureau in Tehran, before serving as diplomatic correspondent in Washington for five years, Rome correspondent for seven years, and then moving to Yangon, where he was news editor of the Myanmar Times