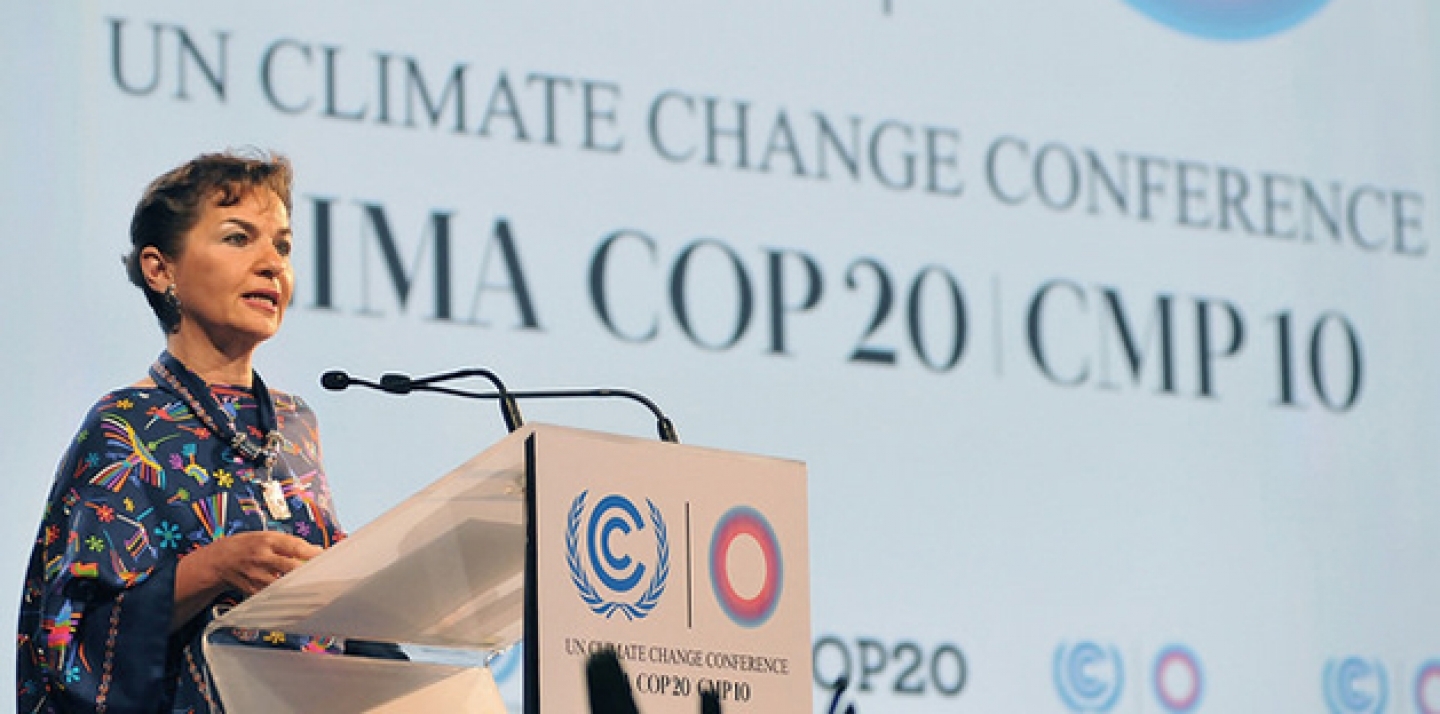 Climate change action and the lack thereof have not infrequently evoked reference to Samuel Beckett's play, Waiting for Godot.  Watching the play, one wonders why the characters are stuck in that dismal landscape and who is the mysterious Godot with the power to change everything. 
In recent days at COP 20 one heard discussion of BINGO, which sounds like the name of a character from Beckett's imagination, but in fact refers to Business and Industry Observer Organizations which have been invited into the UNFCCC tent since COP 19 in Warsaw, Poland. In a statement made to the UNFCCC (PDF) in Bonn in June of 2014 BINGO highlighted a willingness to collaborate in finding solutions to climate change:
The private sector innovates, invests and implements in myriad ways. The UNFCCC's attention to non-state actors, such as business, has opened a promising area of cooperation and further work to supplement and amplify government efforts.

… Businesses are ready to support and work with governments on a broad and deep toolbox of various market instruments, risk reduction, enabling frameworks.

… we urge governments to engineer in[to the new treaty] flexibility to adjust to new scientific, technological and economic knowledge and experience. Business seeks clarity and predictability in public policy.

… the treaty should promote cost-effective and flexible actions: we urge you to ensure that a full range of market-based mechanisms, including various approaches to pricing carbon, do have a role in the 2015 deal.

Given the right conditions, rules and protections, technology and investment can be mobilised and deployed globally.
On December 5, Manuel Pulgar-Vidal, Minister of the Environment for Peru and COP 20 Chair, reminded the audience that in 1992 nations bravely signed on to the UNFCCC based on the understanding of climate change science at the time.  They did not think business and industry needed to be involved. Since then they have come to realize the magnitude of the climate change problem and the crucial role that business and industry should play. Noting that energy is a major source of emission and that every point increase in GDP increases emissions, Pulgar-Vidal argued that business and industry should play a key role in addressing climate change, or face the wrath of consumers who will hold them responsible now that they are more aware that there are clean alternatives to carbon. He said this should not be an exclusive dialogue between business and governments but must be inclusive, involving indigenous people, women, other environmental NGOs. He wanted Lima COP 20 to be remembered for creating a transparent process of dialogue between government, business and civil society, which prioritized all actors, not just business. He invited businesses with good practices and the desire for long term sustainability to step forward to be recognized and to raise ambition in the UNFCCC process.
Christiana Figueres, Secretary to the UNFCCC, remarked that policy is always behind science and enlightened business. She described the UNFCCC process as a complex intergovernmental process which needed signs from the outside to give direction and encouragement to governments. She noted there have been incremental capital flows towards addressing climate change but what was needed was climate change economic transformation over the next 15 years. Figueres said capital needs to receive a strong signal from governments that they are serious about achieving 2 degrees Celsius climate neutrality. According to science, Figueres said, we are running out of time and need transformational action from business now to build climate resilience. Business needs to give confidence to governments to raise their ambition. Christiana Figueres' remarks suggest she is asking business and industry to lead governments to give governments the courage to act, which may suggest that she is concerned governments will not act unless they are confident that business and industry support them.
At this point in the proceedings there were no speeches on behalf of representatives of BINGO.  However, later in the day, one had a glimpse of the potential role of business and industry leading transformation to meet the new challenges of climate change. The insurance industry is feeling the effects of insuring against losses that have become more frequent and more extreme as a result of climate change. Lloyd's has exhorted insurers to take climate-change risk into account because annual weather related losses have quadrupled over the last 10 years from levels in the 1980s.
At a side event entitled Climate Finance: What is it worth? one speaker from the insurance industry pointed out that some recent weather related catastrophes show that individuals cannot effectively insure or mitigate some of the risks. Their municipalities should be considering whether they can mitigate the risks collectively. A thorough climate change insurance assessment would identify what could be mitigated through strengthening local infrastructure (e.g. strengthening storm sewage systems and sea barriers) and what extreme but rare risks should be protected against through insurance. The costs would become budget items for the municipality. He also suggested that when investors are considering investing in carbon heavy investments they should assess whether the investment might lose value due to new regulations, new taxes on carbon or market forces, and buy insurance against this risk. He was confident that with good climate change risk assessment, there was still money to be made in insurance.
Although the speeches introducing BINGO were somewhat muddled, as might be expected in a Beckett play, one is left wondering, could the arrival of BINGO in UNFCCC process create the opportunity to raise everyone's ambition at COP20?