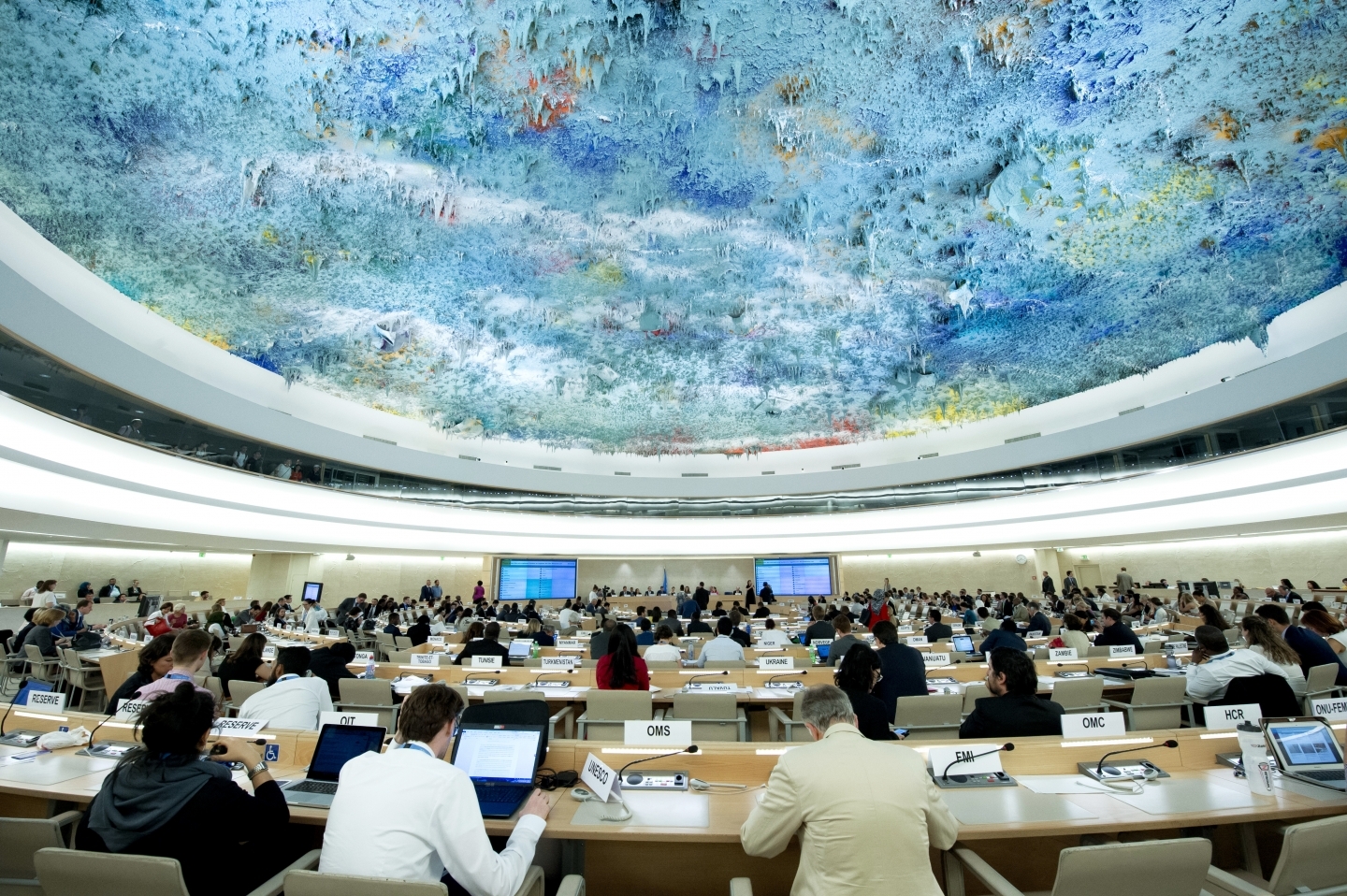 Earlier this spring, Canada's Minister of Justice Jody Wilson-Raybould led a delegation to Geneva, Switzerland, to lay bare Canada's human rights record and to take advice from other nations on how to improve it.
The universal periodic review (UPR) is an international framework that was launched in 2006 by the United Nations' Human Rights Council. It currently provides the only global platform for all UN member states to publicly engage with one another on human rights issues, while also providing space for local civil society actors to provide feedback at various stages of the process.
On paper, the UPR looks like an effective means of ensuring that countries comply with various resolutions and covenants governing these issues. However, on closer inspection, the consequences it imposes on those violating human rights are, arguably, quite minor. Might the UPR have more impact if it incentivized compliance or imposed substantial consequences — beyond public recrimination — for failure to take the necessary steps forward?
The recent Canada-Saudi Arabia human rights dispute (in which Canada called out Saudi Arabia for detaining female activists, sparking a diplomatic row that included the recall of the Kingdom's envoy to Canada, the cancellation of thousands of scholarships for Saudi students and the expulsion of the Canadian ambassador) is an interesting case study in global human rights standards. The dispute has received far more public interest — much of it expressed on Twitter — than a lot of issues raised at the Human Rights Council.
Consider, for example, Saudi Arabia's 2013 presentation to the Council. Canada had earlier made close to a dozen recommendations, including calling on the Kingdom to "abolish, modify or introduce legislation, measures and practices to ensure the effective elimination of all forms of legal discrimination against women and to allow for their full participation in society, including in decision-making and political processes, on an equal basis with men." Saudi Arabia "noted" the recommendation — the only response option the UPR offers besides actually supporting a recommendation or indicating that a recommendation is currently being implemented. A host of other member states made various recommendations as well, and like other governments, Saudi Arabia is expected to report on its progress during the latest four-year cycle (although many of its interim reports are overdue).
Saudi Arabia in turn also regularly dispenses advice to other nations through the UPR process — for example, that developing countries should improve their own human rights laws or institutions, or that Western countries should treat religious minorities better. Historically, the back and forth during the UPR process hasn't sparked any major international incident. And, to date, Israel is the only country to have ever refused to participate in the UPR, claiming the process is biased, although it has rejoined the 191 other members to take part in the current round.
 
On the whole, the process is a limited one. It depends on nations' voluntary participation, and on their political will to speak truth, even if that truth could harm relationships without necessarily leading to meaningful change.
The ongoing persecution of the Rohingya in Myanmar exemplifies this limitation. August 2018 marked one year since a brutal campaign by security forces was accelerated against hundreds of thousands of people. In response, the Human Rights Council designated a team of special investigators to report on the situation, and yet there was little success in ending the crisis. Myanmar denied access to the most severely impacted areas. Last month, when the investigators released a report accusing the government of genocide, their findings were easily dismissed on that basis. Myanmar continues to participate in the UPR.
"This anniversary marks a shameful milestone. By its continued failure to hold to account those responsible for crimes against humanity, the international community risks sending the message that Myanmar's military will not only enjoy impunity but will be allowed to commit such atrocities again. We must not let this happen," Tirana Hassan, crisis response director at Amnesty International, said in a release.
China, too, has been called out repeatedly for its human rights abuses and violations, and yet it continues to enjoy relative impunity. A UK-based human rights advocacy organization called Christian Solidarity Worldwide (CSW) submitted a mid-term report in January 2017 on China's progress on implementing commitments, as part of the UPR process. The CSW concluded that "the nominal commitments which China made to safeguard freedom of religion or belief, freedom of expression, and independence of the judiciary, have not been implemented." Further, and in complete accordance with findings of other human rights organizations and governments, the CSW found that "the human rights situation has deteriorated significantly during the reporting period. Hundreds of human rights defenders have been arrested, religious regulations have been tightened, and religious buildings have been destroyed."
A different UN committee publicly chastised China this summer for creating a "no-rights zone" and imprisoning up to one million ethnic Uyghurs in the Xinjiang region. In response, the Chinese simply denied any wrongdoing.
These examples aren't meant to illustrate that the current structures are completely ineffective. A 2014 analysis by the UPR follow-up program, titled Beyond Promises, found that 48 percent of recommendations were either "fully or partially implemented" within two and a half years. Yet, the analysis also found that a lack of official follow-up means that actual progress isn't always clear. It noted that "too often, states have rushed towards implementation only as they began to prepare the national reports for the subsequent reviews, resulting in the 'checking off of boxes', rather than addressing root causes of complex problems. Furthermore, in a rushed attempt to save face before the international community, governments take action without the consultation and participation of civil society and other national actors — an unsustainable approach to human rights."
A 2011 paper by David Frazier from the Maxwell School of Citizenship and Public Affairs at Syracuse University concluded that the UPR has, at least, provided countries with guidance and goals. Frazier similarly concludes that "if 'naming and shaming' human rights abusers doesn't work, consequences or incentives will need to be created, and this will force some difficult decisions to be made by many countries about participation in the UPR. In either case, as with many multilateral undertakings, the HRC will require the continued leadership of the major developed nations of the world."
Canada has already led some key conversations about how to bolster the impact of current mechanisms. Last winter, for instance, the Permanent Mission of Canada to the United Nations in Geneva hosted a dialogue for "Strengthening the UN Human Rights Council from the Ground Up." Amnesty International, Human Rights Watch and the International Service for Human Rights joined in the effort, along with various other participants. Among the top concerns was how to address membership rights of states who "commit gross and systemic human rights violations." Suspending membership rights is an option that has only been exercised once, in the case of Libya, and should be explored more fully, given the ongoing and egregious violations of various member states. (Never mind that various members of the Human Rights Council have been accused of hindering the work of human rights defenders who work with the United Nations, and that the United States withdrew from the Council this past summer, claiming political bias).
However, it's unlikely that suspension would be enough to send a signal to uncooperative governments. Even the most committed human rights defenders are struggling with how to improve the system.
In the meantime, Canada itself faced criticism for "failing millions of Canadians by denying them an equal chance to succeed and thrive," according to Marie-Claude Landry, chief commissioner of the Canadian Human Rights Commission, following the recommendations around the treatment of Indigenous communities made this spring in Geneva during the current UPR cycle.
"Hearing from our peers is an opportunity to take recommendations and do what we can to improve," said Wilson-Raybould in response to the criticisms.
The UPR is an opportunity for civil society and the wider public to submit their views about which recommendations Canada should act upon. The government is expected to provide a written response to the recommendations, based on the feedback.
But who will hold nations accountable to their promises? While the international community grapples with that question, millions of people continue to suffer horrendous human rights violations, and leaders have the option to simply take note.