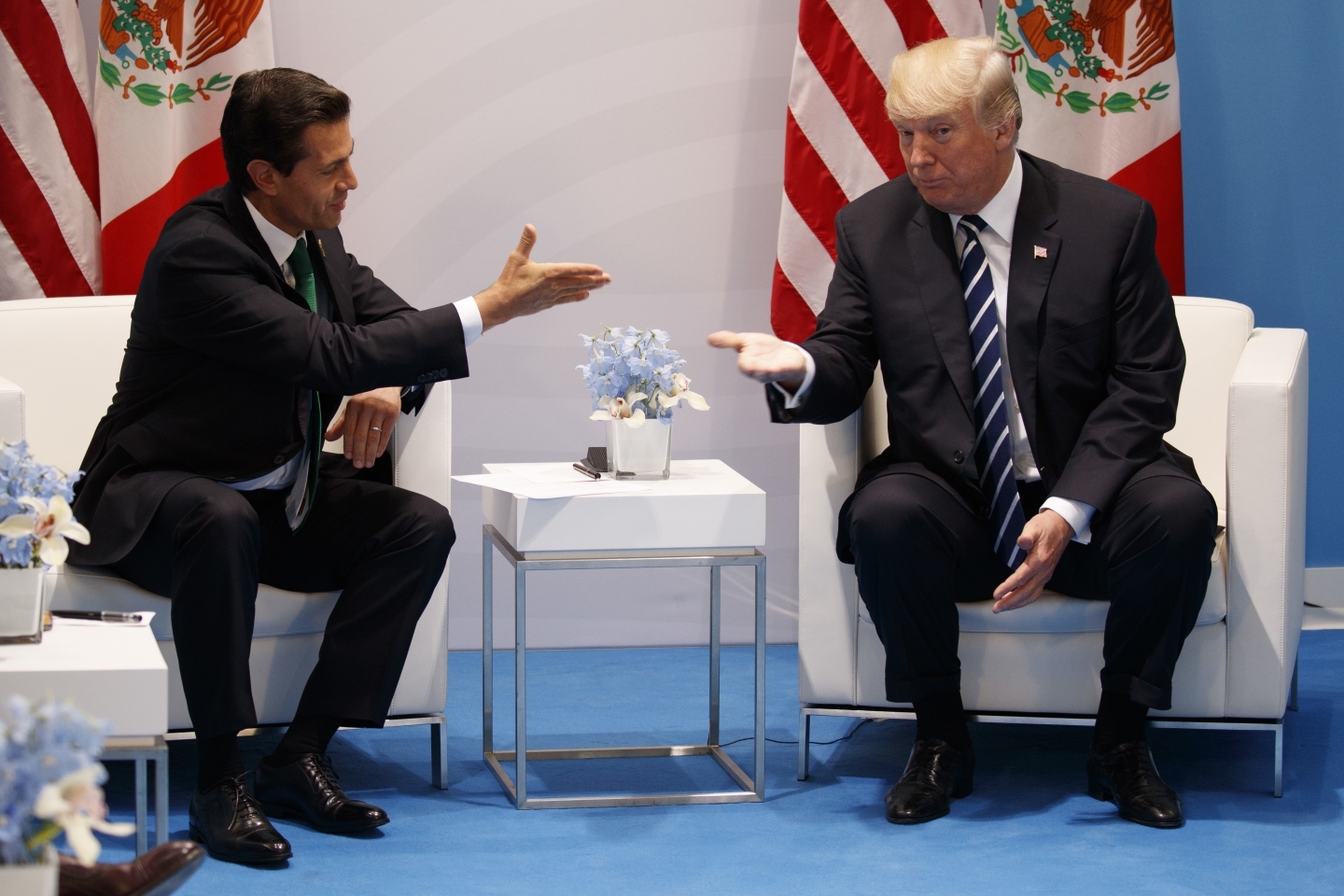 It's come to this: the person keeping US President Donald Trump from completely wrecking the global trading system is a man who claims he is prepared to start a nuclear war.
"Kim Jong-un is the saviour of the world trading system at this moment," C. Fred Bergsten, director emeritus of the Peterson Institute for International Economics (PIIE), said at an event hosted by the Centre for International Governance Innovation, the Mexican Council on Foreign Relations and PIIE in Ottawa on November 2.
By naming North Korea's dictator, Bergsten meant to provoke, but there was truth in his statement. If not for Kim's decision to demonstrate that he is getting close to being able to hit the United States with a nuclear missile, the Trump administration likely would be focused on narrowing the US trade deficit with Asia. The measures required to do that would prompt retaliation, sparking a trade war between some of the biggest economies on the planet.
Trump especially appears to be itching for a confrontation with China, the United States' only serious rival on the world stage. His administration is considering using legislation written for the Cold War to curb imports of cheap Chinese steel, and contemplating changing China's designation as a market economy, which would allow the Commerce Department to apply larger punitive tariffs. The intent is there.
But so far, there has been little action. Trump flip-flopped on his campaign promise to label China a currency manipulator, and the only tariffs to date have been on relatively obscure imports such as aluminum foil and tool chests. One reason is that Trump wants Chinese President Xi Jinping to help him end North Korea's nuclear program: "Why would I call China a currency manipulator when they are working with us on the North Korean problem? We will see what happens!" Trump tweeted in April.
We caught a glimpse of what might happen last week as Trump visited China on his way to the Asia-Pacific Economic Cooperation Summit in Vietnam. The US president flattered his Chinese counterpart, while making clear he hadn't forgotten about his campaign promises. "Who can blame a country for being able to take advantage of another country for the benefit of its citizens? I give China great credit," Trump said in Beijing on November 9. "But in actuality, I do blame past administrations for allowing this out of control trade deficit to take place and to grow. We have to fix this because it just doesn't work."
And we will learn more about the near future of global commerce as the renegotiation of the North American Free Trade Agreement (NAFTA) resumes in Mexico later this week. NAFTA became a template for regional trade agreements after it debuted in 1994. Now, the Trump administration is trying to reset it as a framework for managed trade, rather than freer trade. The United States' partners in North America are less than enthusiastic about where talks are headed.
Martin Moen, director general for North America trade policy and investment bureau at Global Affairs Canada, told the Ottawa conference that some progress had been made through the first four rounds. He said two chapters dealing with rules covering smaller companies and competition policy are "closed." That means the text of a couple of dozen other chapters remains unfinished, explaining why ministers abandoned the original objective of completing their work by the end of 2017.
Canada is seeking changes that would enhance the exchange of goods and services in the region, including providing easier access to work visas for professionals and ensuring that rules for government procurement extend to municipalities. The US approach is different. It wants to scrap Chapter 19, which covers dispute resolution, and rely exclusively on domestic courts to settle commercial disagreements. The Trump administration also wants rules-of-origin provisions to include a specific amount of US content in automobiles, and it has proposed that Canadian and Mexican firms should win no more work from the US government than American companies procure in Ottawa and Mexico City. And if the United States gets its way, the terms of NAFTA will be reviewed every five years. Moen characterized the American proposals as non-starters, saying it would be "very difficult to see a path forward" if the Trump administration insists on them.  
The NAFTA talks are bigger than North America. The rest of the world is watching to gauge the extent to which Trump will insist on restricting imports in the name of narrowing the trade deficit. "I will make bilateral trade agreements with any Indo-Pacific nation that wants to be our partner and that will abide by the principles of fair and reciprocal trade," Trump said in Vietnam. But he is struggling to find partners. Singapore's leader, Lee Hsien Loong, said in October that "it is not the right time" to negotiate one-on-one with the United States because of Trump's attitude about trade.
For those trying to preserve their current access to the US market, the trick will be in giving Trump and his lieutenants the "ability to stand up in front of their public opinion and say, 'We won,'" Andrés Rozental, a former Mexican diplomat, said at the Ottawa event.
That could mean becoming proactive rather than defensive. A promise to buy more exports from the United States would allow Trump to declare he is shrinking the trade deficit, while minimizing the disruption to existing commercial arrangements. Rozental suggested that Mexico could buy more US oil. Canada might carve out space for increased imports of American dairy and wine, areas where American producers think Canada treats them unfairly. Such an approach would be another example of putting managed trade ahead of free trade. Mexico has already negotiated quotas with the United States to resolve a dispute over sugar, and Canada has resorted to the strategy in the past to secure an adequate level of duty-free access for lumber.
The alternative could be a costly trade war. Bergsten said US allies should be ready to fight one. The Trump administration is a threat to an economic system that, for all its faults, has done a decent job of spreading wealth. "The rest of the world has to be ready to respond in-kind to whatever Trump does," Bergsten said. "Capitulating to Trump would be a huge error."
Bottom line: The outlook for freer trade is bleak. The best options for responding to Trump's protectionism appear to be quotas or retaliation. Both result in the same thing: less trade.