34th Annual Congress of the International Association for the Advancement of Teaching and Research in Intellectual Property.
This event will be hosted in conjunction with the Centre for Business Law, of the University of South Africa. This Congress will explore varying perspectives from across the IP law and policy spectrum, about the developing areas that utilise and are affected by IP. These will include some that are long-standing (e.g., patenting in the life sciences, open innovation and regulation through code) and some that are more recent (e.g. social media, the new GTLDs and nanotechnology). But the emphasis will be new perspectives by scholars viewing matters from diverse positions: from the North, from the South, and from those focused on the new context of the Cloud.
Event Speakers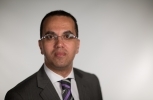 Bassem Awad is deputy director of international intellectual property law and innovation, with CIGI's International Law Research Program. In this role, he provides strategic guidance of the thematic area. A specialist in intellectual property law, he has served as a judge at the Appeal Court in Egypt and the United Arab Emirates and as adjunct professor at Western University.