Accelerating clean innovation across all parts of the economy, including oil and gas, will be increasingly critical to Canada's economic and environmental well-being in a changing world. This conference, organized by Sustainable Prosperity, focuses on how to do that: particularly the key role that governments can play -- through smart policy, investment, spending, etc. It brings together top global and Canadian experts from academia, government and industry.
CIGI Research Fellow Bassem Awad will attend as a participant to discuss the future direction of this initiative.
Event Speakers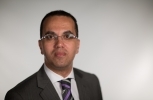 Bassem Awad is deputy director of international intellectual property (IP) law and innovation, with CIGI's International Law Research Program. In this role, Bassem provides strategic guidance and operations coordination and management of the thematic area. Previously, he was CIGI research fellow from September 2014 to January 2016.