The fight against global inequality was one of the founding principles of the institutions created at Bretton Woods. Seventy years later, what can we say about their ability to help reduce economic disparities in the world?
As a part of the Trento Economics Festival 2015 in Trento, Italy, CIGI Senior Fellow James Boughton's CIGI sponsored lecture will address the question, "Can the International Monetary Fund Reduce Global Inequality?" He will be introduced by Radiofonica Journalist Pietro Del Soldà.
Event Speakers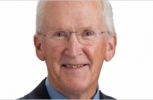 James M. Boughton is a CIGI senior fellow. He is a former historian of the International Monetary Fund (IMF), a role he held from 1992 to 2012. From 2001 to 2010, he also served as assistant director in the Strategy, Policy, and Review Department at the IMF. At CIGI, James's research focuses on the evolution of Canada's role in international governance since the 1940s and the potential for further evolution in the near future.