CIGI Research Fellow Bassem Awad will participate as a speaker in the Canada-U.S. Law Institute International Economic Law Workshop, taking place on September 13, 2014 at the Faculty of Law at Western University. The workshop provides established and emerging scholars in the Great Lakes region the opportunity to share work in progress in the field of international economic law.
Event Speakers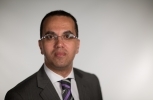 Deputy Director, International Intellectual Property Law and Innovation
Bassem Awad is deputy director of international intellectual property law and innovation, with CIGI's International Law Research Program. In this role, he provides strategic guidance of the thematic area. A specialist in intellectual property law, he has served as a judge at the Appeal Court in Egypt and the United Arab Emirates and as adjunct professor at Western University.