The Ideas Lab brings together about 500 high-level participants, half of them come from outside Brussels, including several delegates from third countries (in particular the United States, China and Canada).
CIGI's Miranda Xafa will participate in this event.
Event Speakers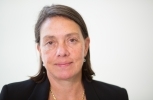 Miranda Xafa is a CIGI senior fellow. She is also chief executive officer of EF Consulting, an Athens-based advisory firm focusing on euro-zone economic and financial issues. At CIGI, Miranda focuses on sovereign debt crises and drawing lessons from the Greek debt restructuring for future debt crises. From 2004 to 2009, she served as a member of the executive board of the IMF in Washington, DC.