Alex He, CIGI Visiting Scholar, will present on "China's Role in G20 Governance: Towards the 2016 Summit in China" at a public event at the Munk School of Global Affairs, University of Toronto.
Event Speakers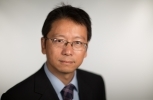 CIGI Research Fellow, Global Economy
Xingqiang ("Alex") He is a CIGI research fellow. He is a research fellow and associate professor at the Institute of American Studies at the Chinese Academy of Social Sciences (CASS). His academic interests focus on domestic politics, with an emphasis on interest group politics in the U.S., China-U.S relations. He also studies interest groups in China and their roles in China's foreign economic policy making, China and the G20, China and global economic governance.