(Kristopher Young/CIGI Photo)
FREE COMMUNITY EVENT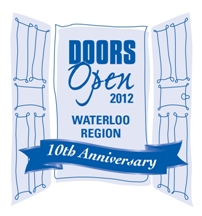 Doors Open Waterloo Region is a free heritage and architecture tour of special, occasionally "secret" places in the region, held on the third Saturday in September every year. To see all of the stops for Doors Open Waterloo Region here is the guide & map.
This year is the 10th Annual Doors Open Waterloo Region. You are invited to an architectural Open House of the CIGI Campus! Live music, exhibits, video presentations & children's activities. (This is a drop-in Open House, an RSVP is not required).
THE NEW CIGI CAMPUS
67 Erb Street West, Waterloo
http://cigicampus.cigionline.org
Enjoy this preview of one of Waterloo's newest buildings. Designed to house several research and academic institutions focused on global issues, including the Balsillie School of International Affairs, this Oxbridge-style complex features a landscaped interior courtyard with public art, a signature bell tower and a wood-clad, 250-seat auditorium for academic and public events.
Featured in the Waterloo Record, the CIGI Campus received international recognition for its architecture. The Royal Institute of British Architects awarded the Campus with the International Award for Architecture. The Campus was the only building in Canada to be honoured and its architects — Toronto-based Kuwabara Payne McKenna Blumberg Architects — were the only North Americans awarded.
The CIGI Campus has also been shortlisted for a second international architecture award, this one from the World Architecture Festival (WAF), the only Canadian project in the higher education and research category, and one of only four Canadian designs in the 292 finalists shortlisted by the WAF.  The WAF is the largest live award competition for architecture and major hub for celebrating excellence in the industry. The WAF will announce winners in 33 categories at its event in Singapore later this year.
Presenting Sponsor: Region of Waterloo
Program Partners: City of Kitchener, Doors Open Ontario, Ontario Heritage Trust, Township of Wellesley, Township of Woolwich
Media Sponsors: Waterloo Region Record, CTV, City of Waterloo, the Corporation of the City of Cambridge