Two CIGI research associates will speak at the 51st Annual Conference of the Canadian Economics Association, to be held June 2-4, 2017, at Nova Scotia's St. Francis Xavier University. CIGI presentations include:
Second Guessing Monetary Policy Decisions: The Preferences of Central Bankers And Shadow Monetary Policy Committees
By: Samantha St. Amand, co-authored with Program Director Domenico Lombardi and Senior Fellow Pierre Siklos
Saturday, June 3 from 9:00 a.m. to 10:30 a.m.
This research compares the behaviour of shadow monetary policy committees (SMPCs) and monetary policy committees (MPCs), as it could help unveil some of the subtle differences in preferences of central bankers. Specifically, differences in the policy decisions of the SMPC and MPC can shed light on how the strategic context of the monetary policy decision-making environment can affect central bankers' behaviour.
The Network Properties of Capital Flows: How Connected is the Global Financial System?
By: Joanna Wajda, co-authored with Program Director Domenico Lombardi and Senior Fellow Pierre Siklos
Sunday, June 4 from 10:30 a.m. to 12:00 p.m 
This paper looks at the degree of connectedness of capital flows in the global financial network using two methods (Granger causality and variance decomposition) and finds evidence of changes in connectedness among advanced economies following the Global Financial Crisis (GFC).
Event Speakers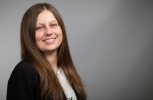 Joanna Wajda is a CIGI research associate in the Global Economy Program. She holds a B.A from the Honours Arts and Business (Economics) Program at the University of Waterloo and an M.A. in economics from the University of Toronto. Her research focuses on innovation and the economy, including patenting, new technologies and the future of work.