Citizenfour is a real life thriller, unfolding by the minute, giving audiences unprecedented access to filmmaker Laura Poitras and journalist Glenn Greenwald's encounters with Edward Snowden in Hong Kong, as he hands over classified documents providing evidence of mass indiscriminate and illegal invasions of privacy by the National Security Agency (NSA). CIGI invites you to join us for a special screening of the 2015 Academy Award-winning picture for Best Documentary.
Event Speakers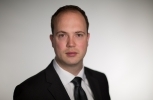 Managing Director and General Counsel
A practising lawyer, Aaron Shull is CIGI's managing director and general counsel. In addition to advising on a range of domestic legal and corporate matters, he has substantive expertise in international law, global security and Internet governance.