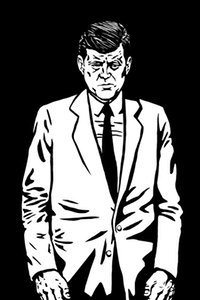 CIGI Cinema Series:
Virtual JFK: Vietnam if Kennedy Had Lived 
Winner of the Golden Palm Award, the Mexico International Film Festival
Special Jury Prize Nominee, Toronto International Hot Docs Festival
Directed and Produced by Koji Masutani
Co-produced by James G. Blight, janet M. Lang and David A. Welch
Thursday November 21, 2013, 7:00-9:00 PM, CIGI Auditorium
James Blight and janet Lang will briefly introduce the film and will respond to questions after it has concluded. Popcorn and soft drinks will be available in the lobby.
On November 22, 2013, the world will observe the 50th anniversary of JFK's assassination. CBS news anchor Walter Cronkite's on-air announcement of JFK's murder still have the power, even fifty years later, to shock and sadden. Jack Ruby's murder of Lee Harvey Oswald, the accused assassin, two days later on live television, added to the already surreal atmosphere of the moment. Alas the media coverage—in the movies, magazines, newspapers, and books—in the run-up to the 50th anniversary of Kennedy's murder is proving in spades that people still find the circumstances of Kennedy's death far more interesting and important than the achievements of his presidency. Fifty years later it's as if Dallas is Graceland and JFK is Elvis.
JFK deserves better. We now know that he was far from perfect as a president, husband and father. Yet we also know from oral testimony and declassified documentation that the Cold War produced no greater hero than JFK. This conclusion has nothing to do with Camelot fantasies and everything to do with the relevant historical facts. To grasp the nature and significance of his heroism, we need to go deeper into what he actually did, and did not do in the course of preventing several disastrous wars, standing firm against many advisers who tried to push him to use massive American military force. Were it not for JFK's skepticism of hawkish advice and his steely determination to prevail over the hawks, any one of a half dozen crises could have escalated to a nuclear catastrophe initially involving the U.S. and Soviet Union, but ultimately engulfing the entire world.
Kennedy's assassination and his replacement by Lyndon Johnson is the emotional pivot of Virtual JFK (documentary, 80 minutes). It addresses one of the 20th century's most controversial "what ifs": what would have happened in Vietnam if Kennedy had lived?  With insight and erudition, the film traces JFK's presidency--a 1036-day term full of tense political-military stand-offs--through rare and previously-unseen archival footage, providing an authoritative account of JFK's decision-making when war and peace were on the line.