CIGI opens the 2014-2015 Cinema Series with a screening of "We Steal Secrets: The Story of WikiLeaks". In this documentary film, Academy Award-winning filmmaker Alex Gibney explores the circumstances and impact of both the founding of WikiLeaks and its subsequent participation in several major disclosures of classified information in 2009-2010, including highly-publicized leaks of Iraq and Afghanistan war documents. The film also profiles the people involved in the organization, including founder and editor-in-chief Julian Assange.
Event Speakers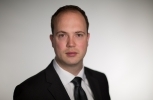 Managing Director and General Counsel
A practising lawyer, Aaron Shull is CIGI's managing director and general counsel. In addition to advising on a range of domestic legal and corporate matters, he has substantive expertise in international law, global security and internet governance.