Join Professor Myra J. Tawfik, CIGI senior fellow and professor of law and academic director of the Law, Technology and Entrepreneurship Clinic at the University of Windsor, to discuss basic principles of copyright law including:
What researchers can and can not do with copyright material
The relationship between open access and copyright law
Whether activities like posting articles and/or links to articles on academic websites/blogs are lawful
Event Speakers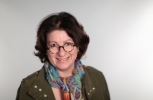 Myra J. Tawfik is a senior fellow at CIGI, where she leads a project that explores strategies for capacity building in IP literacy, IP strategy and cost-effective IP legal services for start-ups and entrepreneurs. This project also sets out models and best practices for comprehensive IP literacy within the public sector entrepreneurial support system. She is the co-creator (with Karima Bawa) of the CIGI Massive Open Online Course, "Foundations of IP Strategy." A book on the subject of IP strategy for innovators, co-authored with Karima Bawa, will be published in summer 2019.