Council on Foreign Relations (CFR) will convene the Council of Councils Fourth Annual Conference in Washington, DC.  CIGI's President Rohinton Medhora will participate in the event.
Participants will discuss six major themes:
Managing the Crisis in Ukraine: Great Power Relations and the Future of Sovereignty
Countering Terrorism and Violent Extremism
Reforming Global Health Governance: Lessons from Ebola
Currency Competition and International Trade
Dilemmas of Humanitarian Intervention: The Case of Syria    
Controlling Nuclear Weapons: Reviewing the NPT
On Tuesday, May 12, CFR will also be launching the inaugural product of the CoC, the Council of Councils Report Card on International Cooperation.
The launch event will be livestreamed on May 12 at 8:45 a.m. (EST) on CIGI's website at: http://www.cfr.org/global-governance/crisis-global-governance/p36514
Event Speakers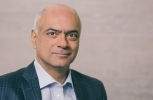 Rohinton P. Medhora is president of the Centre for International Governance Innovation (CIGI), joining in 2012. Previously, he was vice president of programs at Canada's International Development Research Centre. He received his doctorate in economics in 1988 from the University of Toronto, where he subsequently taught. His fields of expertise are monetary and trade policy, international economic relations and development economics.