CIGI Distinguished Fellow Jorge Braga de Macedo will attend the Euro 50 and China Finance 40 Forum Meeting in Beijing. The meeting will house a roundtable organized by the China Finance 40 Forum, featuring three distinguished speakers: Zhou Xiaochuan (Governor of the People's Bank of China), Benoit Coeuré (ECB) and Don Kohn (Former VP of the Federal Reserve Board).
Event Speakers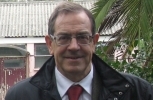 CIGI Distinguished Fellow
CIGI Distinguished Fellow Jorge Braga de Macedo is a former minister of finance in Portugal and president of the OECD Development Centre. Having served on CIGI's International Board of Governors, he is currently president of the Tropical Research Institute and professor and director of the Centre for Globalization and Governance at the Nova School of Business and Economics.