Co-sponsored by CIGI and the United States Club of Rome, this luncheon symposium features the following program:
12:00-12:20 The Reform of the United Nations System, by Dr. Francesco Stipo, President, The Club of Rome, U.S. Association

12:20-12:40 The Future of International Financial Institutions and Global Economic Cooperation, by Dr. Rohinton Medhora, President, The Centre for International Governance Innovation
12:40-1:00 Global Governance and Climate Change
Event Speakers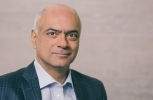 Rohinton P. Medhora is president of the Centre for International Governance Innovation (CIGI), joining in 2012. Previously, he was vice president of programs at Canada's International Development Research Centre. He received his doctorate in economics in 1988 from the University of Toronto, where he subsequently taught. His fields of expertise are monetary and trade policy, international economic relations and development economics.