The CIGI Global Policy Forum is an exclusive, invitation-only series of talks offering  authoritative analysis on policy-relevant issues affecting Canada and its place in the world. Launched in 2012 by The Centre for International Governance Innovation, and held at the Rideau Club in Ottawa, the CIGI Global Policy Forum offers audience members access to a wide range of distinguished speakers: policy experts and influencers shaping the world's debates and discussions on global economic, security, development and environmental issues.
Event Speakers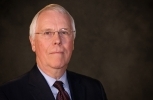 Interim Director of the Global Economy Program
Paul Jenkins is the Interim Director of the Global Economy Program. He provides strategic advice to the Global Economy program, including activities related to CIGI's partnership with the Institute for New Economic Thinking (INET) and broader macroeconomic issues. His own research focuses on international policy coordination and financial stability, with a particular interest in the G20. From 2003 to 2010, he served as senior deputy governor of the Bank of Canada.