CIGI Distinguished Fellow Thomas A. Bernes will participate in a workshop on the impact global financial institutions have on poverty and inequality, organized by the New Rules for Global Finance.
Event Speakers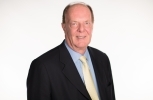 CIGI Distinguished Fellow
Thomas A. Bernes is a CIGI Distinguished Fellow. After a distinguished career in the Canadian public service and at leading international economic institutions, Tom was CIGI's executive director from 2009 to 2012. He has held high-level positions at the International Monetary Fund, the World Bank and the Government of Canada. He became a distinguished fellow in 2012.