CIGI Post-Doctoral Fellow Basil Ugochukwu will attend and participate in the International Research Conference hosted by the University of Rwanda's College of Arts and Social Sciences (CASS).
The main purpose of this research conference is to establish sustainable research partnerships between Rwandan and international scholars. The conference will be a platform for scholars with common research interests to initiate a process of sharing ideas, networking, co-authorships and future collaborations. The underlying purpose of this research conference is to achieve concrete research collaborations based on mutual interests between Rwandan and international scholars. Moreover the conference aims at bringing the debate to Africa with African scholars, as an attempt to reduce the existing research 'divide/gap' between the global north and south, in spite of their diverse views, skills and knowledge.
Event Speakers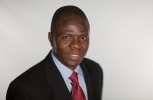 Basil Ugochukwu is a research fellow with CIGI's International Law Research Program.  He holds an LL.B. (Common Law) from Abia State University, an LL.M. from Central European University in Hungary, a teaching certificate from York University and a Ph.D. from Osgoode Hall Law School. At CIGI, he will research how legal reasoning in environmental cases supports or displaces the efforts to link environmental practices to corporate social responsibility.