Over the past 50 years, thinking about "international development" evolved with the practical experience of developing countries. This dynamic continues today as facts on-the-ground transform the ideas and politics of development.
The speakers will highlight three current examples: the debate on aid to middle-income countries, the shift in concern from absolute poverty to relative inequality, and the changing sets of actors and problems in international development. This event marks the launch of www.developmentideas.info - a space for development thinkers and practitioners to learn and debate about international development.
Event Speakers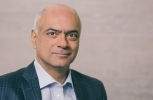 Rohinton P. Medhora is president of the Centre for International Governance Innovation (CIGI), joining in 2012. Previously, he was vice president of programs at Canada's International Development Research Centre. He received his doctorate in economics in 1988 from the University of Toronto, where he subsequently taught. His fields of expertise are monetary and trade policy, international economic relations and development economics.