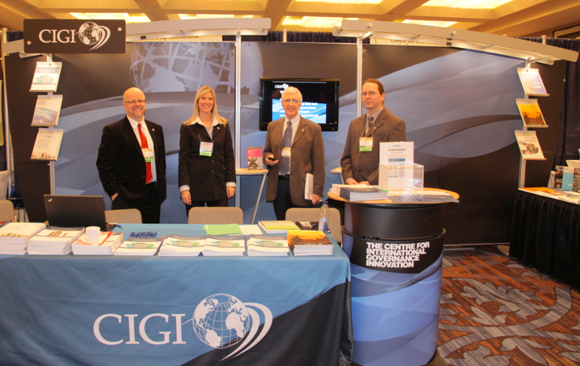 Staff of The Centre for International Governance Innovation (CIGI) gather at the think-tank's booth, during the International Studies Association (ISA) conference in Montreal, March 16-19, 2011. From left: Fred Kuntz, vice president of public affairs, Colleen Fitzpatrick, community relations and events manager, Max Brem, senior director for publications and Matthew Bunch, publications coordinator. More than a dozen CIGI fellows and CIGI chairs, as well as other staff, attended ISA (with a conference theme in 2011 of "Global Governance: Political Authority in Transition"), with some CIGI personnel appearing on panels to discuss a wide variety of issues in international affairs. At the CIGI booth, various new CIGI publications were available, including "Challenges and Opportunities for the French Presidency: The G20 - 2011 and Beyond," a conference report and background papers from CIGI's G20 Working Group. About 5,000 participants attended the conference, including thousands of university professors and graduate students in international relations courses across North America.
ABOUT THE ISA CONVENTION: The Association's annual convention is a major international scholarly event, including over 1,000 panel sessions and involving participants from more than fifty countries. ISA conventions are held at alternative sites in the United States, Canada, Mexico and overseas. The next annual convention will be held in Montreal in March 2011 with the theme "Global Governance — Political Authority in Transition." VISIT CIGI: at booth #52-53 at Le Centre Sheraton, Montreal March 16-19. ISA Exhibit hall Hours: The Exhibit Hall is the ideal meeting place to share information with decision-makers and specialists in the field of international relations. Wednesday, March 16 1:00 PM – 6:00 PM Thursday, March 17 9:00 AM – 6:00 PM Friday, March 18 9:00 AM – 6:00 PM Saturday, March 19 9:00 AM – 12:00 PM CIGI Co-sponsored Reception "Open Policy Development" : Thursday, March 17, 7:00pm-8:00pm, Marquette Room, convention floor of The Fairmont Queen Elizabeth Hotel. Co-sponsored by CIGI, DFAIT (Foreign Affairs and International Trade Canada) and CORIM (Montreal Council on Foreign Relations). This reception is by invitation-only. Please contact Colleen Fitzpatrick [email protected]
Other CIGI Participation:
MEET THE AUTHORS: Paul Heinbecker: Thursday, March 17 12 noon-1pm, 4pm-5pm, Booth #52-53
Andrew F. Cooper: Friday, March 18 12 noon-1pm, 4pm-5pm, Booth #52-53
ROUNDTABLE PANEL Co-Sponsored by The Policy Research Division, Department of Foreign Affairs and International Trade Canada & the Center for International Governance Innovation (CIGI) "Middle Powers and Evolving Global Governance: From "Idées Reçues" to Innovative Influence" Thursday, March 17th, 10:30am
The emergence of new global challenges and actors is questioning the post-World War II multilateral system. Calls are multiplying to close the geopolitical and democratic gaps that are impeding the further development of international governance. At the same time, there is growing concern that membership enlargement and inclusive consultation mechanisms will inevitably dilute some countries' voice in the world, including countries that have traditionally played a "middle power" role.
Chair: Arif Lalani, Director General, Policy Planning Bureau, Department of Foreign Affairs and International Trade of Canada Experts' Presentations: - "Reform and Innovation within Existing Institutions" - Expert: Dr. Andrew F. Cooper, Distinguished Fellow, CIGI - "The Growing Contribution of Regional Governance: the Asian Experience" - Expert: Dr. Amitav Acharya, Professor of International Relations in the School of International Service at the American University, Washington, D.C. - "The Changing Nature of Influence in International Affairs" - Expert: Dr. Mo Jongryn, Professor of Political Economy, Yonsei University and Director of the Graduate School of International Studies - "The Power of Networks, Ideas and Innovation" - Expert: Dr. Rohinton Medhora, VP Programs, International Development Research Centre Discussant: Mr. Paul Heinbecker, Distinguished Fellow, CIGI