The Mexican Council on Foreign Relations (Comexi) and CIGI jointly present the conference, "Latin American Perspectives on Sovereign Debt Restructuring."
The conference is broken out into three workshops: "Sovereign Debt Crises in Latin America: Lessons Learned," "Is the International Debt Architecture in Need of Reform? Latin American Perspectives on the Debate" and "Governing Sovereign Debt: What's at Stake for Latin America?"
Conference speakers include CIGI Director of the Global Economy program Domenico Lombardi, President of Comexi Jaime Zabludovsky and Mexican Minister of Finance Luis Videgaray. CIGI Senior Fellow Gregory Makoff will also participate in the conference.
Event Speakers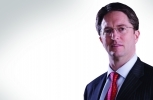 CIGI Senior Fellow Gregory Makoff is currently researching issues in international financial policy, including the management of sovereign debt crises. As an expert in sovereign debt and an experienced debt capital markets professional, Mr. Makoff's transaction advisory experience will inform his work with CIGI on sovereign debt.