The Peterson Institute for International Economics (PIIE) and Moody's Investor Service will hold a joint semiannual international finance conference on September 30, 2015, partnering with the Centre for International Governance Innovation (CIGI) on the topic of "Multilateral Development Banks and Asian Investment: Room for More?"
During the conference, CIGI's Director of the Global Economy Program Domenico Lombardi will chair the panel, "Discussion for Asia and Beyond," with panelists CIGI Senior Fellow Hongying Wang, PIIE President Adam Posen and PIIE Senior Fellow Simon Johnson.
The conference will also feature in-depth discussions of "Infrastructure needs and the New Silk Road," with Andrew Davison, Senior Vice President, Global Infrastructure of Moody's. 
PIIE Visiting Fellow and former Finance Minister of Bulgaria Simeon Djankov will share his insights on China's One Belt, One Road strategy, and the release of a major new report, "Where do MDBs spend their money?" by Steven Hess, Senior Vice President, Moody's.  Simon Johnson and  Hongying Wang will also link that research to issues of global financial governance.
Event Speakers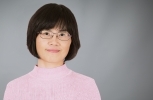 Hongying Wang (王红缨) is a CIGI senior fellow and teaches political science at the University of Waterloo. She studies Chinese politics and foreign policy as well as international political economy.