CIGI Research Fellow Bassem Awad participates in the 2015 Patent Pledges Symposium, presented by American University's Washington College of Law and the University of Utah's S.J. Quinney College of Law. His panel is on "Beyond ICT." Read his paper at this link.
Patent holders are increasingly making voluntary, public commitments to limit the enforcement and other exploitation of their patents. The best-known form of patent pledge is the so-called FRAND commitment, in which a patent holder commits to license patents to manufacturers of standardized products on terms that are "fair, reasonable and non-discriminatory." But patent pledges have been appearing in fields and environments well beyond technical standard-setting, including open source software, green technology and the biosciences. Pledges include FRAND commitments, as well as commitments not to assert patents against specified technologies or entities, and not to transfer patents to non-practicing entities. This one-day symposium brings together leading voices from government, industry and academia to consider and debate the effect and future of patent pledges in the modern economy."
Event Speakers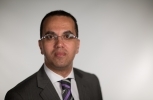 Bassem Awad is deputy director of international intellectual property law and innovation, with CIGI's International Law Research Program. In this role, he provides strategic guidance of the thematic area. A specialist in intellectual property law, he has served as a judge at the Appeal Court in Egypt and the United Arab Emirates and as adjunct professor at Western University.