---
Participation in this event is by invitation only
---
The Commonwealth Secretariat and The Centre for International Governance Innovation warmly are pleased to host a side event at Part 2 of the International Seabed Authority's 25th Session, in Kingston, Jamaica.
Following from the Legal Working Group on Liability for Environmental Harm from Activities in the Area, which completed its series of papers on Liability Issues for Deep Seabed Mining, this side event will have multiple speakers highlight the perspectives on key features that liability rules and procedures may need to address.
Event Speakers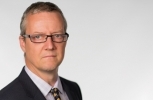 Neil Craik is a CIGI senior fellow, effective June 2015. He is an associate professor at the University of Waterloo with appointments to the Balsillie School of International Affairs and the School of Environment, Enterprise and Development, where he teaches and researches in the fields of international and Canadian environmental law.