---
Participation in this event is by invitation only
---
CIGI is teaming up with the Peterson Institute for International Economics (PIIE) to hold an event that will feature a keynote address by Lawrence H. Summers of Harvard University, the former Secretary of the Treasury for the United States.
CIGI Senior Fellow Jim Boughton will participate on a panel discussing how successful the Plaza Accord was, and Domenico Lombardi will participate in the overall discussion at the event.
Event Speakers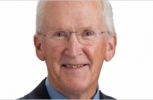 James M. Boughton is a CIGI senior fellow. James's research focuses on the evolution of Canada's role in international governance since the 1940s and the potential for further evolution in the near future.