CIGI is teaming up with the Peterson Institute for International Economics (PIIE) to hold an event that will feature a keynote address by Lawrence H. Summers of Harvard University, the former Secretary of the Treasury for the United States.
CIGI Senior Fellow Jim Boughton will participate on a panel discussing how successful the Plaza Accord was, and Domenico Lombardi will participate in the overall discussion at the event.
Event Speakers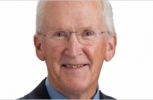 James M. Boughton is a CIGI senior fellow. He is a former historian of the International Monetary Fund (IMF), a role he held from 1992 to 2012. From 2001 to 2010, he also served as assistant director in the Strategy, Policy, and Review Department at the IMF. At CIGI, James's research focuses on the evolution of Canada's role in international governance since the 1940s and the potential for further evolution in the near future.