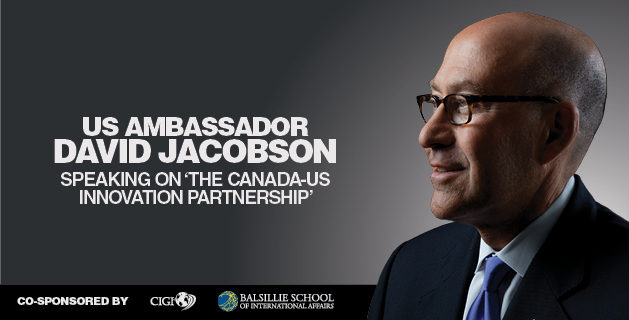 TICKETS TO THIS EVENT ARE SOLD OUT. PLEASE RSVP BELOW TO HAVE YOUR NAME ADDED TO OUR WAITLIST. SHOULD A SEAT BECOME AVAILABLE WE WILL SEND YOU AN EMAIL.
David Jacobson presented his credentials to the Governor General of Canada on October 2, 2009, becoming the 22nd United States Ambassador to Canada. Before coming to Ottawa, Ambassador Jacobson served in the White House as Special Assistant to the President for Presidential Personnel. Prior to his government service, he was a corporate lawyer in Chicago where he was active in civic and political affairs.
Since assuming his post, Ambassador Jacobson has traveled extensively throughout Canada concentrating his efforts in four areas: expanding the bilateral trading relationship; improving border security and the efficiency; utilizing the vast and secure energy resources of Canada while preserving the environment; fostering the shared values of the United States and Canada around the world.
Event Speakers
David Dewitt joined CIGI as vice president of programs in July 2011, and oversees the strategy and implementation of all the organization's work programs and research-related activities, including the CIGI Campus Library. He is on an extended leave of absence from York University, Toronto where he currently holds the position of University Professor.