Following a keynote address by Ruben Lamdany, Deputy Director at the IMF Independent Evaluation Office, the panel will discuss the issue of warnings before financial crises, how risks and vulnerabilities can be detected or ignored, and what steps can be taken to enhance surveillance and overcome a culture that discourages contrarian views.
Event Speakers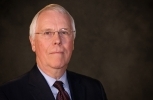 Interim Director of the Global Economy Program
Paul Jenkins is the Interim Director of the Global Economy Program. He provides strategic advice to the Global Economy program, including activities related to CIGI's partnership with the Institute for New Economic Thinking (INET) and broader macroeconomic issues. His own research focuses on international policy coordination and financial stability, with a particular interest in the G20. From 2003 to 2010, he served as senior deputy governor of the Bank of Canada.