Istituto Affari Internazionali (IAI) and CIGI are hosting a talk by CIGI Senior Fellow James Boughton on his recent CIGI Essay on International Finance, Stabilizing International Finance: Can the System Be Saved?
CIGI Global Economy Program Director Domenico Lombardi will act as chair, and discussants will include Federico Fubini, Paolo Guerrieri and Juan Carlos Martinez Oliva.
Event Speakers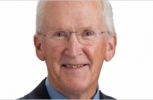 James M. Boughton is a CIGI senior fellow. He is a former historian of the International Monetary Fund (IMF), a role he held from 1992 to 2012. From 2001 to 2010, he also served as assistant director in the Strategy, Policy, and Review Department at the IMF. At CIGI, James's research focuses on the evolution of Canada's role in international governance since the 1940s and the potential for further evolution in the near future.