Please join the Centre for International Governance Innovation (CIGI) and the Atlantic Council for a panel discussion on Ukraine's Banking Reforms at the Atlantic Council headquarters in Washington. Valeria Gontareva, Governor of the National Bank of Ukraine will provide a keynote address. Susan Schadler, a CIGI senior fellow and former deputy director of the International Monetary Fund will sit as a panelist. Domenico Lombardi, director of the Global Economy Program will be introducing the panelists.
The panelists will focus of reforms of the banking sector, but will also share their insights on the current situation in Ukraine and address the impact of the continuing Donbas conflict on the country's economic and political future. 
Event Speakers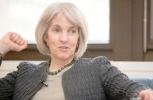 Susan Schadler is a CIGI Senior Fellow. She is a former deputy director of the International Monetary Fund's European Department. Her research interests include the sovereign debt crisis, global capital flows, global financial institutions and growth models for emerging market economies.