A delegation from the Chinese Academy of Social Sciences (CASS) will be visiting Ottawa, September 16-18, 2015. The purpose of the visit is twofold: (i) to undertake discussions and follow up research in support of the 2016 China G20 Presidency; and (ii) to discuss international economic and business trends in connection with domestic factors facing China.The delegation will meet with officials from both public and private sectors, including experts from academia. The visit will provide CASS an opportunity to receive valued Canadian input on the issues the Academy is interested in and also offers CIGI an opportunity to engage in serious discussions on issues pertinent to CIGI's research interests. Visiting Scholar Alex He and Global Economy Program Manager Alisha Clancy will attend on behalf of CIGI.
Event Speakers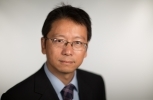 CIGI Research Fellow, Global Economy
Xingqiang ("Alex") He is a CIGI research fellow. He is a research fellow and associate professor at the Institute of American Studies at the Chinese Academy of Social Sciences (CASS). His academic interests focus on domestic politics, with an emphasis on interest group politics in the U.S., China-U.S relations. He also studies interest groups in China and their roles in China's foreign economic policy making, China and the G20, China and global economic governance.