The World Ocean Forum is held annually to discuss important ocean issues and the future of maritime welfare and industries with experts on the subject of ocean energy, EEZ, ocean science, climate, fisheries, ocean and maritime industries. It also provides an opportunity for networking and the exchange of information between all sectors of the global ocean/marine community like governments, international agencies, nongovernmental organizations, industries, and scientific groups. This year's forum will trace the trajectory of Korean maritime history since the end of World War II and subsequent liberation, and will aim to establish a maritime strategy for next three decades with agenda of clean ocean era. 
CIGI Senior Fellow John Higginbotham will present on "Canadian Arctic Shipping and Resource Development" at the Forum's International Conference on Arctic Vision.
Event Speakers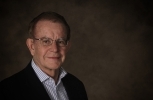 CIGI Senior Fellow
An experienced practitioner and scholar of transportation and global governance, John Higginbotham joined CIGI as a senior fellow in 2013. With over 30 years of service with the Government of Canada, including international assignments, his current research focuses on Arctic governance.