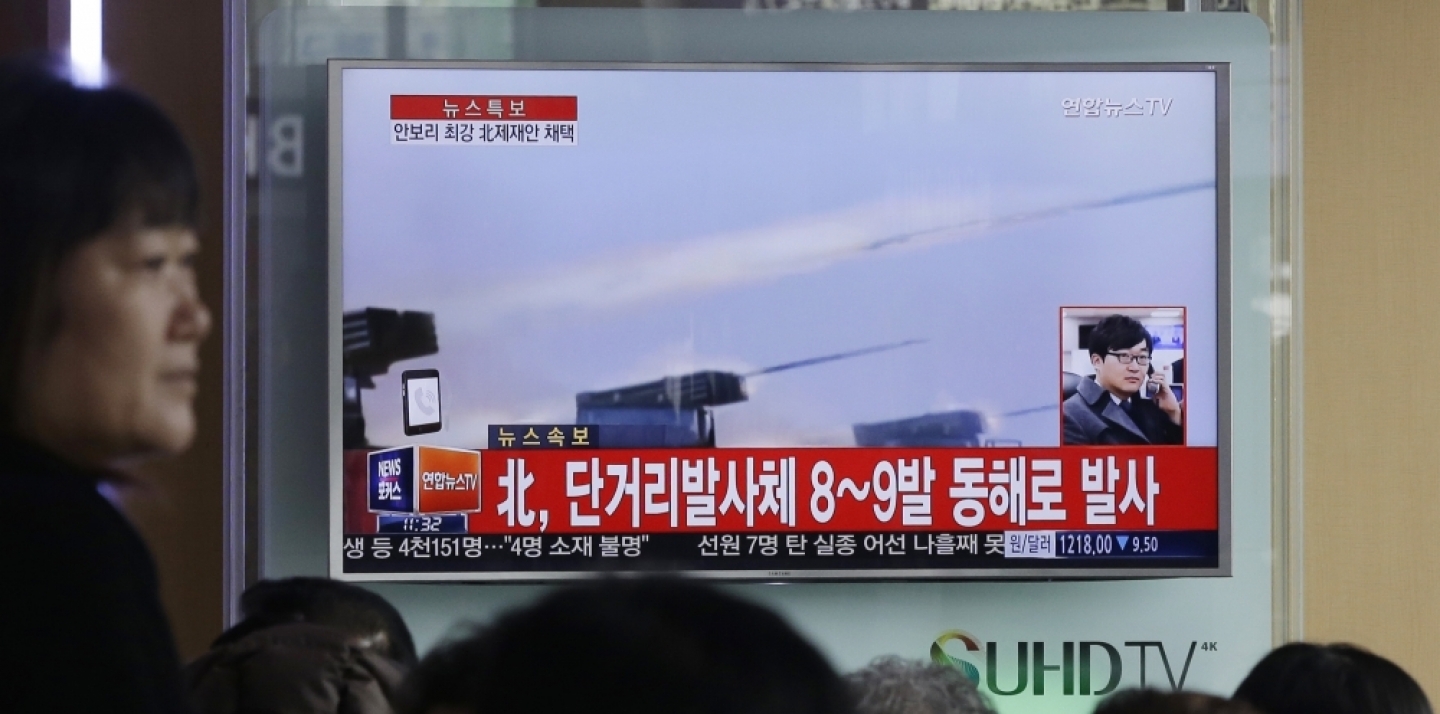 North Korea's January 7 nuclear test and February 6 rocket launch have set in motion a series of events and reactions in Northeast Asia that could have far-reaching consequences for stability and diplomatic relations in the region. While Pyongyang's first three nuclear tests in 2006, 2009 and 2013 had elicited strong international condemnation and sanctions, their effects were largely confined to the Korean peninsula. This time however, the fallout is different.
The initial response was on par for the course, with near unanimous outcry from the international community and the usual promise to hit back with sanctions. One notable difference was that China, which had previously not shied away from harshly criticizing North Korea, was relatively soft, merely declaring that it was "firmly opposed" to Pyongyang's latest provocation while calling for dialogue to resolve the issue.
Beijing's muted reaction proved to be ominous, as in the weeks following the nuclear test, it refused to support the wide-ranging sanctions that the United States, along with South Korea, had been pushing for. Two meetings between US Secretary of State John Kerry and Chinese Foreign Minister Wang Yi were initially insufficient to induce China into ratcheting up pressure on its neighbour. Following weeks of diplomatic wrangling, Washington and Beijing finally agreed on to new set of United Nations sanctions. These sanctions, the toughest to be imposed on North Korea to date, were adopted by the Security Council on March 2nd. Evidently, China is not impervious to pressure.
After eight weeks of opposition and criticisms of the sanctions approach, what convinced China to vote in favour of the new sanctions in the end? The prospects of heightened security measures by China's neighbours, primarily South Korea, played an important part in changing its strategic calculus. Amidst the international outcry and promises of further sanctions, the most consequential response to Pyongyang's actions was the announcement on February 7 that Seoul and Washington would begin negotiations on the deployment of the Terminal High Altitude Aerial Defense (THAAD), an American missile defence system, in South Korea.
Washington had been trying for years to convince its ally to introduce this system. Despite the need for a more robust defence against the North Korean threat, Seoul had hitherto wavered due to concerns over China's reactions. Beijing (and to a lesser extent Moscow) has repeatedly expressed steadfast opposition to THAAD, claiming that it would have a negative impact on regional stability. The Chinese Ambassador to South Korea declared that the relationship between Beijing and Seoul, which has reached new heights since the election of South Korean president Park Geun-Hye, could be "destroyed in an instant" if the South went ahead with the introduction of THAAD. This admonition did not go over well in South Korea, where a senior official enjoined China to "look into the root of the problem", a clear reference to North Korea's missile and nuclear programs.
The prospect of a THAAD deployment may potentially be a game changer and the ultimate impetus that changes China's thinking. While it may vehemently oppose Seoul's decision, it is also fully aware that national security imperatives are behind South Korea's decision to countenance the introduction of the missile defence system. Faced with the choice of living with an advanced US defensive weapons system in South Korea and playing along with Washington and Seoul to be tougher on the North, Beijing has opted for the latter, at least for now. It may have gotten what it wanted, as Washington and Seoul announced on February 23 the postponement of the working-level talks on THAAD, in the midst of the negotiations between Beijing and Washington on the UN sanctions.
Nothing guarantees China's commitment to strictly enforce the new sanctions. It has in the past turned a blind eye to North Korean violations of previous UN sanctions, for fear that impeding trade may destabilize the Kim Jong-Un regime. Despite the fact that Sino-North Korean relations have taken a turn for the worse in the last few years, China continues to be a lifeline for Pyongyang. North Korea conducts approximately 80 percent of its trade with China, conferring the latter more influence—however limited—than any other country. As David Welch recently argued, China remains the key country in any effort to denuclearize and reign in North Korea.
Assuming that China's acquiescence to the newest sanctions is a result of what it perceives as the threat of a THAAD deployment, this should be used as leverage. The US itself has said that there would be no need for another layer of missile defense in the absence of a North Korean nuclear deterrent. Therefore, South Korea could quietly promise to China that it will hold off on any talk of THAAD if Beijing exerts calculated pressure on North Korea. For its part, Washington could warn Beijing that it may increase the number of US troops in Korea or deploy additional assets from its Japan-based Seventh Fleet if China's efforts on sanctions enforcement prove to be lackluster. It would be undoubtedly difficult for the US and South Korea to ascertain whether or not China fulfills its obligations under the UN sanctions. But given that cooperation from Beijing is necessary for the North Korean regime to re-assess its priorities, it is well worth the risk.
More than just a matter between the United States and South Korea, the THAAD issue is morphing into a power game that could have repercussions on the US-China rivalry as well as China-South Korea ties. If mismanaged, it could complicate relations between countries that need to work together to counter the North Korean threat. Contrary to China's claims, however, the deployment of THAAD—or threat thereof—could end up being a boon for stability in Northeast Asia, if it compels Beijing to use its clout on its wayward neighbour. 
More than just a matter between the United States and South Korea, the THAAD issue is morphing into a power game that could have repercussions on the US-China rivalry as well as China-South Korea ties.