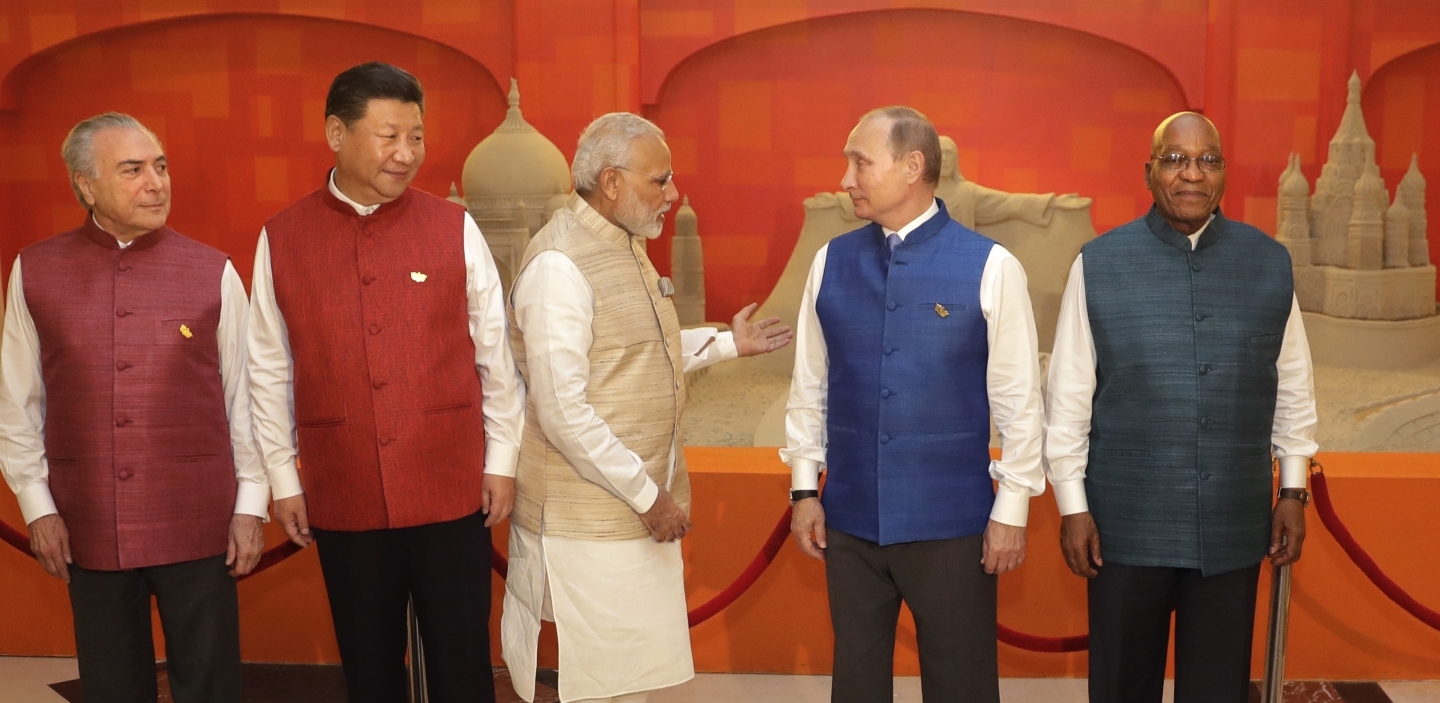 It is easy to dismiss the BRICS, the international group of emerging-market countries that insists on being taken seriously, even though it owes its existence to a report by a Goldman Sachs economist.
The group held its eighth summit in Goa, India and did little to bolster its reputation.

The BRICS issued a statement that talks repeatedly about protecting democracy, respecting international law, and encouraging peace, even though China (one-party state, South China Sea) and Russia (authoritarian, cult-of-personality president; Crimea) are charter members. Brazil's previous president was impeached earlier this year. South African President Jacob Zuma  is at war with his finance minister over allegations that Zuma did favours for a wealthy businessman that is both a friend and business associate of his son. (The finance minister, Pravin Gordhan, is facing fraud charges. Both Zuma and Gordan deny any wrongdoing.) Meanwhile, Indian Prime Minister Narendra Modi, the host, spent most of his time talking about Pakistan, which he called the "mothership" of terrorism.
Are these the guys we want to running the global economy someday?
No more so than we should want the entitled bunch at the G7 (the US, Japan, Germany, France, the UK, Italy and Canada) to carry on like it is 1985. Both the G7 and the BRICS consume diplomatic energy that could be devoted to the G20, a post-crisis project that is suffering from serious neglect. Sherpas may not care, as any opportunity to stay up all night drafting communiques represents a chance to compare notes and advance agendas. But from the outside, it is difficult to see how the increasing emphasis on the BRICS and the revival of the G7 does anything to further the goal of greater collaboration between established and emerging powers. We are witnessing the creation of rivals, not friends.
The BRICS is a puzzle to many because its members seem to have little in common. It's not always clear if they even count each other as 'frenemies'. Ahead of the recent summit, Bloomberg News described the "bromance" between Chinese President Xi Jinping and Russian President Vladimir Putin. But China's love isn't universal. Xi seems intent on frustrating India's global ambitions at every opportunity. He is denying India entry into the Nuclear Suppliers Group and he is using his country's veto at the UN Security Council to block India's efforts to list the mastermind of the deadly 2011 attack on Mumbai as a global terrorist.
China, which considers Pakistan ally, refused the Indian government again in Goa. Modi wanted the BRICS to make a strong statement against "cross-border terrorism," a euphemism in New Delhi for Pakistan's support of Islamic terrorists who cross the Line of Control to attack Indian soldiers. Said Xi: the BRICS should aim to "find political solutions to hotspot issues and take on global challenges like natural disasters, climate change, infectious diseases and terrorism...We should also address issues on the ground with concrete efforts and a multi-pronged approach that addresses both symptoms and root causes."
Modi arguably scored a diplomatic point by inviting the Bay of Bengal Initiative for Multi-Sectoral Technical and Economic Co-operation (BIMSTEC), a regional group that excludes Pakistan, instead the more prominent South Asian Association for Regional Cooperation, which counts Pakistan as a core member. Still, Modi's games appeared to achieve little more than extensive media coverage. (That may have been the point; Modi's Bharatiya Janata Party will contest several important state elections next year.) Like Xi, the leaders of Brazil, Russia and South Africa also refused to make direct comments about Pakistan.
The man who gave the BRICS its name isn't giving up on his creation. "The BRICS today, like in 2001, have a vital role to play in tackling the most pressing international challenges," Jim O'Neill wrote on Oct. 3. "In fact, I came up with the acronym not just because the letters fit together, but also because of the word's actual meaning: these emerging economies, I argued in my 2001 paper, should be the building blocks of freshly overhauled global financial and governance systems." (For the record, O'Neill identified only Brazil, Russia, India and China as future powers. South Africa came later.) 
To be sure, the BRICS has lost some of its swagger. Brazil and Russia have suffered terrible recessions for the past two years. The double-digit growth that Modi hinted at after he took power in 2014 never came, and China's rate of annual economic growth has slowed to about 6.5 percent from about 10 percent in 2011. Still, O'Neill says any suggestion that the importance of the BRICS was overstated is "naive." The economies of the original four countries have grown by roughly the amount he thought they would more than a decade ago. O'Neill criticized Europe and the US for failing to grant BRICS countries the standing in institutions such as the IMF that the gross domestic products show they deserve. "If this does not change, with reforms going much further than they have so far, we will soon find that `global governance' is no longer global at all," O'Neill said. 
Goa was disappointing because unlike the G7, the BRICS has actually done something concrete recently to boost the global economy. In 2014, it created the New Development Bank (NDB), which has backed green-energy projects in the five BRICS countries worth $900-billion (US) so far this year. The NDB's president, K V  Kamath, said in Goa that he planned to more than double that amount in 2017.
There were doubts that the NDB would amount to anything. Instead, Kamath seems to have created a credible international lender. The BRICS can get things done when it is motivated. It should bring that focus and energy to the G20. Instead, it seems intent to go the way of the G7.