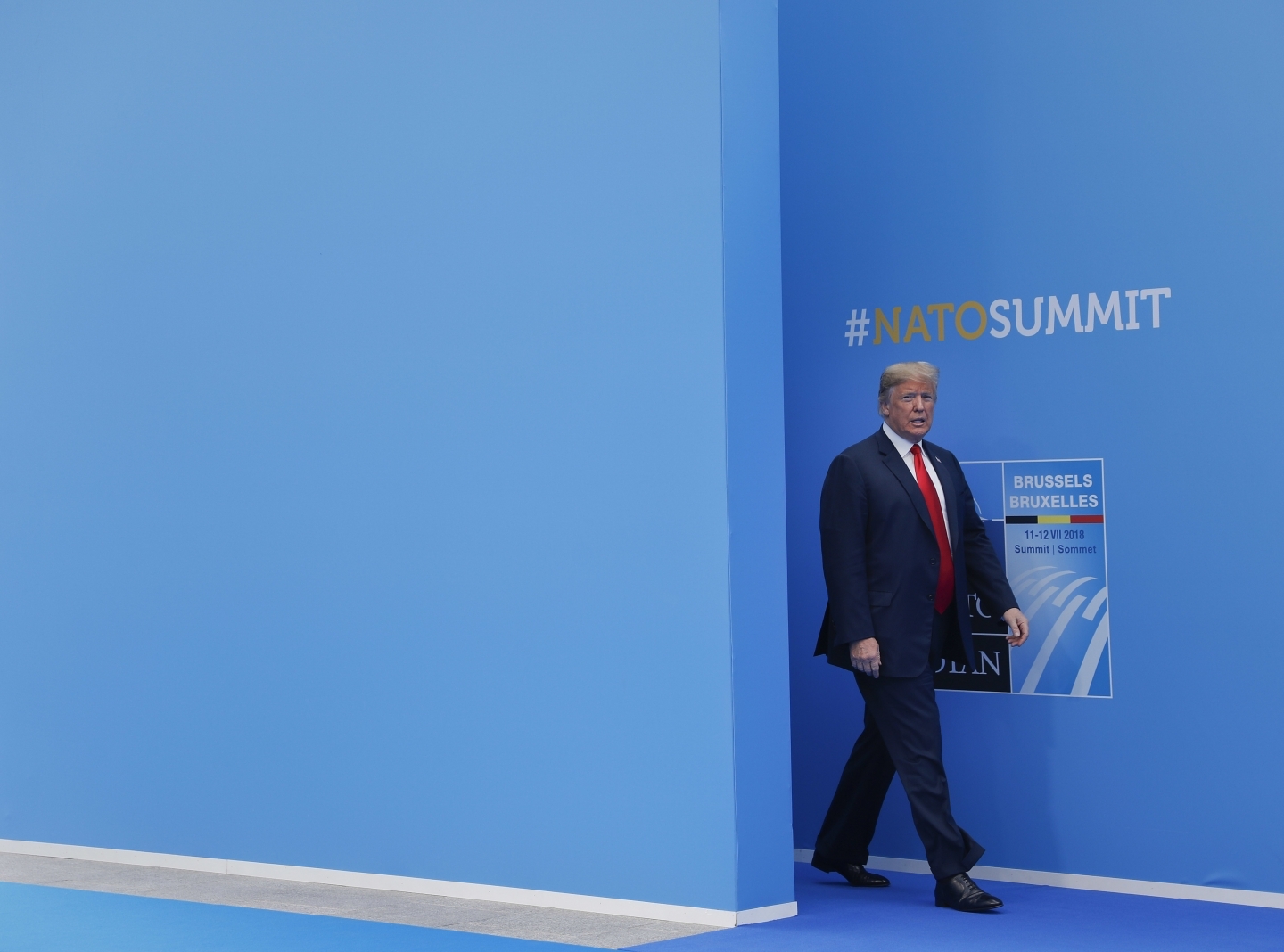 US President Donald Trump just wrapped an astonishing week in the history of American diplomacy. A month after he attacked American economic partners at the Group of Seven meeting in Canada, he did the same with the United States' security partners of the North Atlantic Treaty Organization (NATO). Trump then topped this off with a disturbingly obsequious press conference with Russian President Vladimir Putin.
The critical backlash to Trump's performance has been remarkably swift, deep and wide. Not only were America's European allies aghast at the one-two punch of denigrating NATO while praising Putin personally, but American conservatives criticized the president. Members of Trump's own administration admitted that Russia did indeed hack the 2016 US election, which Trump refused to press Putin on, while Republican senators — and even Fox News, a reliably Trumpist media outlet — criticized the president.
Trump has raised meaningful NATO issues, especially on financing. But erratic, incomplete manner leaves the allies unsure how seriously to take his critique. Longer-term serious issues about NATO's blurry post-Cold War mission and capabilities remain unresolved.  
Does Trump Actually Mean What He Says about NATO?
Trump's incessant attacks on NATO, dating back to his presidential candidacy, have raised a debate on the utility and purpose of the alliance. The level of criticism is reminiscent of that seen at the end of the Cold War. It could, in fact, be a useful debate.
NATO was intended to push back on the Soviet east bloc, which, of course, is long gone. NATO continues to admit members for no obvious security reason, and its involvement in "out-of-area" operations has been contentious. European members' capabilities have seriously atrophied; the most capable European members, Britain and France, struggled to provide airpower in the operation to remove Libyan despot Muammar Gaddafi in 2011. It is no longer clear if NATO's collective security commitment still applies to Turkey, given its authoritarian and Islamist turn under President Recep Tayyip Erdogan. Hungary has similarly backslid on democracy, and the Baltic members are so small and exposed to Russian hybrid warfare that one also wonders if the NATO bloc would risk war with Russia over them. In short, there are a whole host of issues one might debate on NATO's future and structure.
Unfortunately, Trump is a poor vessel for this valuable debate. He seems to revel in outrageous remarks and biting critique. So, it is not clear to what extent Trump means what he says about NATO (or the European Union, or the North American Free Trade Agreement — the list goes on). Similarly, the Russophilia of his NATO critique is increasingly suspected to be cover for some kind of compromised personal or financial relationship with Putin or Russian oligarchs.
This line of skepticism is plausible. Trump clearly desires, even craves, attention and television coverage more than he does any obvious policy proposal. Nothing brings exposure like his gleeful troublemaking — he's a ''bull who brings his own china shop with him," as Winston Churchill once said of John Foster Dulles. Thus, when Trump passes from the scene, his implied threat of actually withdrawing from NATO is likely to fade with him.
NATO's deep inertia in Western consciousness will put a brake on Trump, as will massive bureaucratic resistance from the transatlantic national security community. It is hard to imagine anyone in a Western military or diplomatic corps who approves of Trump's behaviour. Publics across the alliance broadly approve of NATO. Trump would be pushing for a serious breach or withdrawal almost alone.