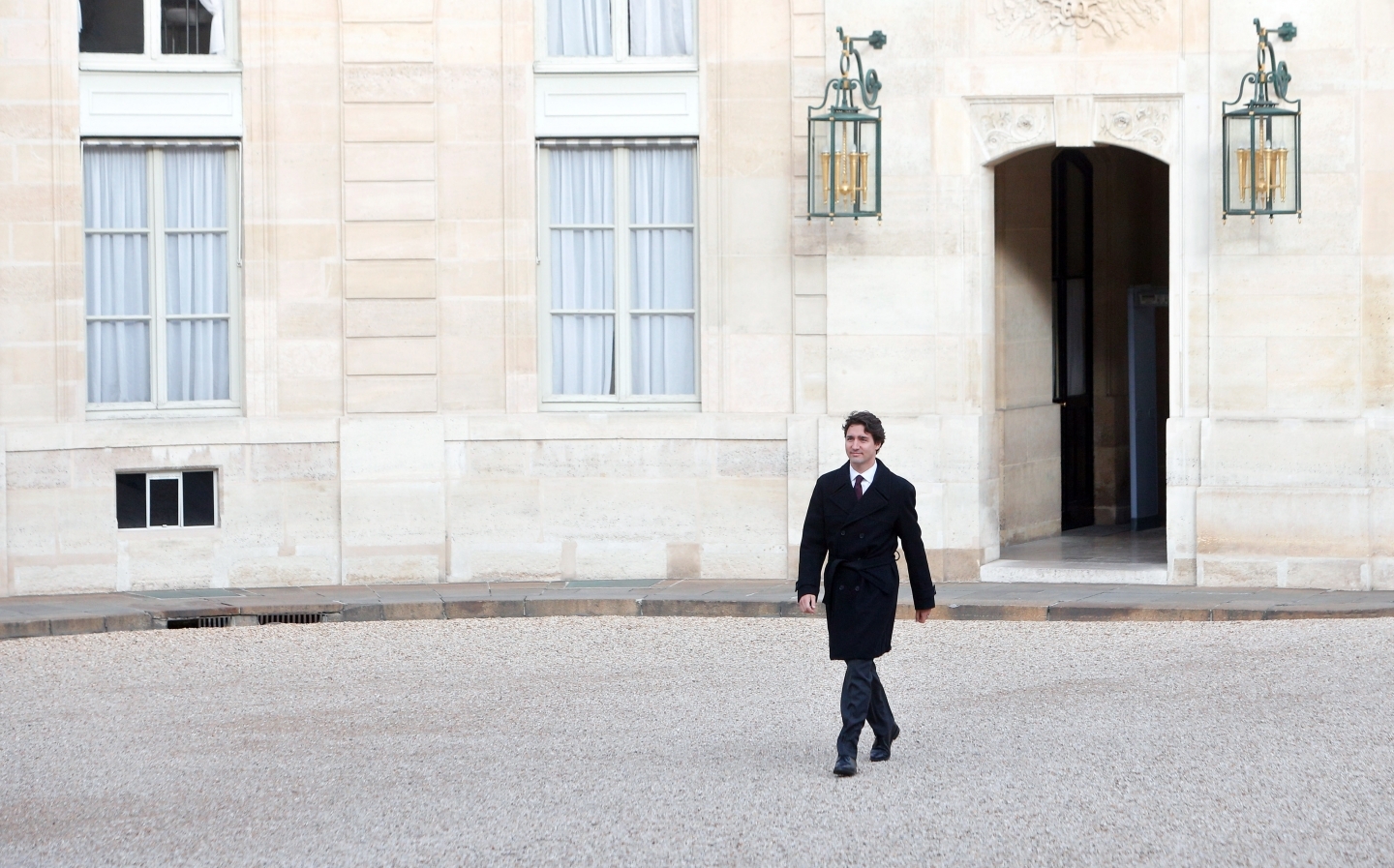 There is something odd about the way the opponents of Prime Minister Justin Trudeau have responded to Saudi Arabia's assault on Canada.
When US President Donald Trump called Trudeau "dishonest and weak" after the Group of Seven summit in Charlevoix, opposition parties stood up for the Canadian leader. They also are united in their support of Trudeau's approach to the renegotiation of the North American Free Trade Agreement (NAFTA), and his decision to match Trump's tariffs on steel and aluminum imports with tit-for-tat duties.
But when Saudi Arabia attacked the Trudeau government this week, that wall of support cracked.
A surprising number of partisans struggled to choose sides in the dispute over human rights between the dictatorial regime in Riyadh and their country's democratically elected prime minister. The shifting dynamics raise questions about the durability of the "Team Canada" approach to dealing with Trump on trade: How much longer can it last? 
"We do not have a single friend in the entire world," Rachel Curran, a former policy director for Prime Minister Stephen Harper, tweeted on August 7. "That takes some doing."
It all started innocuously.
On August 3, Canada, a democratic country, called on Saudi Arabia, a notoriously autocratic one, to release some human rights advocates who had been recently imprisoned.
This is routine stuff. But this time, instead of calling the Canadian ambassador in for a chat — as one might expect — the kingdom declared him persona non grata and gave him 24 hours to leave.
Mohammed bin Salman, the 30-something crown prince, also ordered an end to all future business with Canada. Thousands of Saudi university students in Canada were told they will be going to school elsewhere in the autumn. The national airline cancelled flights to and from Toronto. The country's national grain buyer said it would no longer purchase Canadian wheat and barley.
Experts in international affairs were surprised by Saudi Arabia's aggressive response. Chrystia Freeland, the foreign affairs minister, stood firm. "Canada will continue to advocate for human rights and for the brave women and men who push for these fundamental rights around the world," she said in a statement on August 6.
This was another predictable response from Canada, a country that was among the first to speak loudly against South Africa's system of apartheid back in the 1980s.
Yet, all of the politicians who rushed to Trudeau's side to confront Trump earlier this year have left him to fight bin Salman on his own. Andrew Scheer, the Opposition leader, and other prominent Conservative politicians have stayed unusually silent. Erin O'Toole, the party's foreign affairs critic, delivered a mixed message on Twitter. He said he talked to Freeland and offered to help resolve the dispute with Saudi Arabia. O'Toole also said, "the list of countries upset with Canada is growing," and that, "it is time for the Trudeau government to get serious and move beyond photographs and tweets."
The Saudi news triggered an undercurrent of negativity that is absent from most commentary on NAFTA and Trump.
"We are stuck in the same (noble) gear we've been in for the past three years, with little to show for it," Andrew MacDougall, a former spokesman for Harper, wrote in Maclean's.
No country has come to Canada's defence. According to Curran, this is evidence that Trudeau has alienated too many allies.
 
Peter MacKay, who served as Harper's foreign affairs minister, said that Saudi Arabia's decision to cut off Canada from new investment will "bite" and that the clash will be a "defining issue" for Trudeau.
Omar Allam, a former diplomat in the Harper government who now runs a trade consultancy in Ottawa, faulted Trudeau for allowing already bad relations with Riyadh to worsen.
"It would appear that Canada continues to view Saudi Arabia with an outdated ideological lens," Allam said in an interview. "The current Canadian trade playbook is clearly not working, and Ottawa's foreign policy and engagement strategy in Saudi Arabia has backfired."
MacKay is likely exaggerating the economic impact of an investment freeze by Saudi Arabia. The value of trade between the two countries was about $6 billion in the 12 months through June — a negligible amount. More than half of Canada's oil imports arrive from the United States; unlike some countries, Canada isn't beholden to Saudi Arabia for its energy. There is an opportunity cost to missing out on bin Salman's largesse, but none of that promise had materialized yet. Canada will be able to find new buyers for its grain without too much difficulty.
The alarm among the Opposition in Ottawa over Saudi Arabia's diplomatic aggression suggests two things.
First, a series of public, international disappointments has damaged the Trudeau government's credibility.
After he was elected, Trudeau declared that Canada was "back" as a player on the international stage. Yet, his record after almost three years in power is marred by highly visible flops. He failed to launch free trade talks with China; he nearly botched Canada's entry into the Comprehensive and Progressive Agreement for Trans-Pacific Partnership (CPTPP, formerly the TPP) by missing a meeting with other leaders; and he spent a gaffe-filled week in India for no obvious reason. There have been positives, but none substantial enough to cause the public to forget the mistakes.
The second thing is NAFTA.
Trump's threat to quit the agreement turned trade diversification into a major political issue, reflecting anxiety over the country's exposure to US protectionism. 
When Trudeau shuffled his cabinet in July, he moved former trade minister François-Philippe Champagne to a new department and introduced Jim Carr as his minister for "international trade diversification."
The Opposition also wanted to be seen as serious about seeking non-American markets. Scheer called on Trudeau to hold an emergency summer sitting of Parliament to ratify the CPTPP, a trade agreement that includes Canada and 10 Asian and Latin American countries. Trudeau refused, but it's unlikely Scheer cared: he scored his point on an issue that clearly has begun to resonate with voters.
With those issues at top of mind, it's possible to see why some are reacting negatively to the Trudeau government's handling of Saudi Arabia: they see an unserious leader who has likely cost Canada a chance at billions in export sales and investment at a time when trade diversification is an imperative. 
Fair enough. But those people might want to consider something Adam Smith wrote in The Theory of Moral Sentiments. The first line reads: "How selfish soever man may be supposed, there are evidently some principles in his nature, which interest him in the fortune of others, and render their happiness necessary to him, though he derives nothing from it except the pleasure of seeing it."
International affairs is about more than trade, even for a country as dependent on it as Canada. If Trudeau's opponents want to abandon him, they should find a better excuse than his choice to defend human rights.
Canada's government has made mistakes, but not this time.