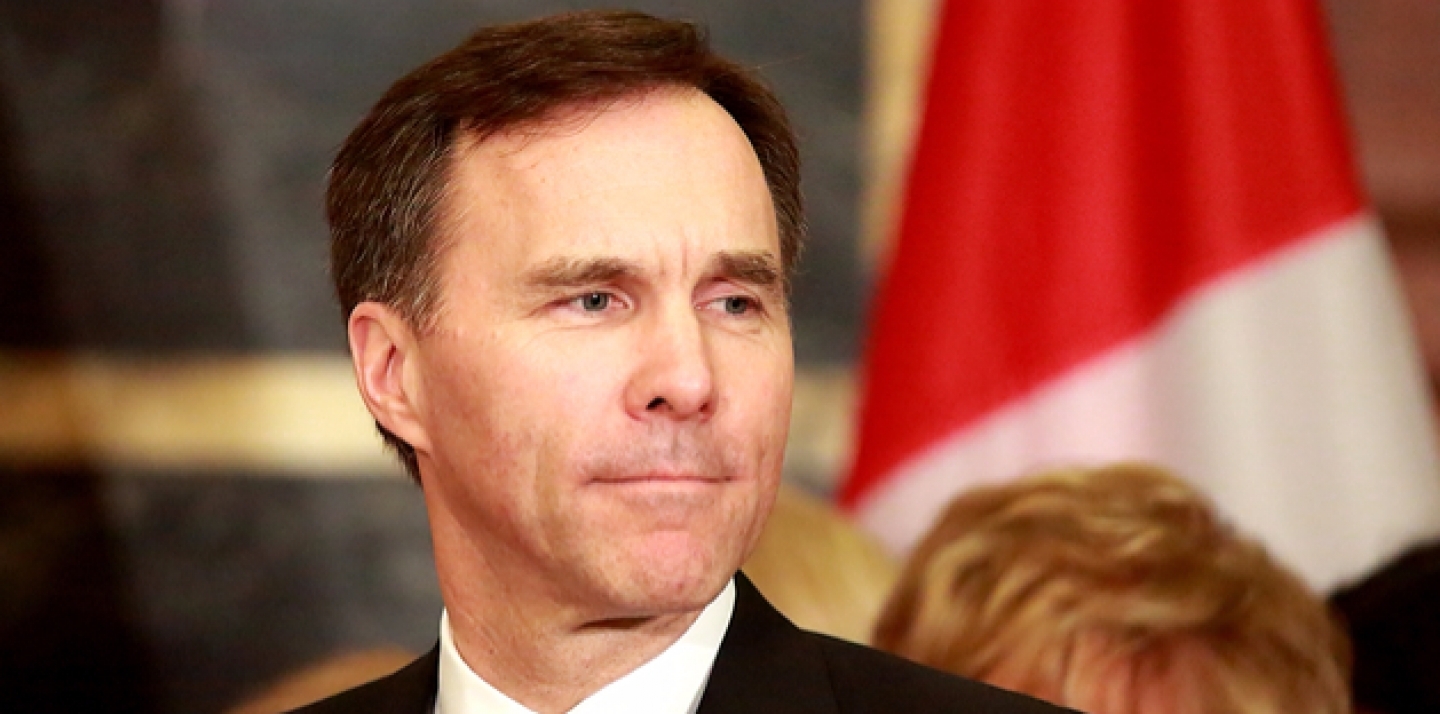 Bill Morneau, finance minister of Canada, the IMF's good student, says it's not his job to tutor Germany, the problem child. "I don't think it is our responsibility to convince other people what they should be doing in their specific situation," Morneau told a few Canadian journalists in Washington on Oct. 6. 
Then again, if Germany saw fit to join Canada at the head of the class, Morneau reckons the world would be better off. "We want to make sure that middle class Canadians see benefits from our investments," he said. "If other countries look at their situation and conclude they have the same opportunity and make investments that make a difference, then that will be a positive outcome for the world and then a positive outcome for Canada, because we think it will enhance global growth, which is positive for Canadians."
That's what it has been like for German officials at this week's annual meetings of the IMF. The departure from the scene of former Canadian Prime Minister Stephen Harper and former British Prime Minister David Cameron has left Germany alone as an advocate for austerity. In another shift, Germany also has been isolated by IMF managing director Christine Lagarde's decision to be more direct in her criticism of recalcitrant members. On Oct. 5, Lagarde was asked about Chancellor Angela Merkel's plan to cut taxes. Her response: fine, but Germany should use its favourable fiscal position to spend heavily on infrastructure, too. "We hope the tax cut is part of a larger package," she said. 
The increasing pressure on Germany is creating an odd dynamic among the world's most powerful economies. Germany unofficially took over the presidency of the G20 this week, putting it in charge of a group of countries who increasingly see it as a drag on their efforts to better global economic growth. There now is a clear consensus that the push for austerity at the G20 in 2010 was a mistake. The decision by countries such as Germany, the UK and Canada to favour balanced budgets left central banks to fight the aftereffects of the financial crisis on their own. Ultra-low interest rates appear to have lost their power to spur economic growth. That means it is time for fiscal policy to do more. 
"The global dialogue has come a long way in a year," Morneau said. "In December 2015, when we talked about the policies we were embracing, the global reaction at the G20 meeting was, `That's interesting. We think that Canada might be onto something.'  The reaction in the G20 meetings in China this summer was pretty much a uniformed consensus that the idea of inclusive growth is very important in how we move forward."
Note that Morneau said there is "pretty much" a consensus on fiscal policy at the G20. Germany is a notable exception. "Our thinking still remains that you have to have sustainable public finances," Ludger Schuknecht, chief economist at the German finance ministry, said on Oct. 6. "We in Germany are a lot more humbled by our history with countercyclical policies," he added, a statement that revealed his government's deep opposition to the IMF's embrace of debt financing for infrastructure and other public spending that has the potential to boost productivity. 
Under Harper and his long-time finance minister, the late Jim Flaherty, Canada and Germany were allies on global economic policy. Now they are rivals. Lagarde consistently uses Prime Minister Justin Trudeau as an example of how a pledge to run deficits can win elections. Trudeau and his cabinet ministers appear comfortable in the spotlight. "Our goal is to improve our Canadian growth rate and to improve how that growth is helping Canadians and that means doing the right thing in Canada," Morneau said. "It also means being an advocate for global policies that are going to make a difference because we know we will benefit from that too."
Canadian economic policy looked a lot like that of Germany for a couple of decades. Balanced budgets had become sacred. Trudeau persuaded Canadian voters that times had changed. German voters — or at least their leaders — will prove to be far more stubborn.