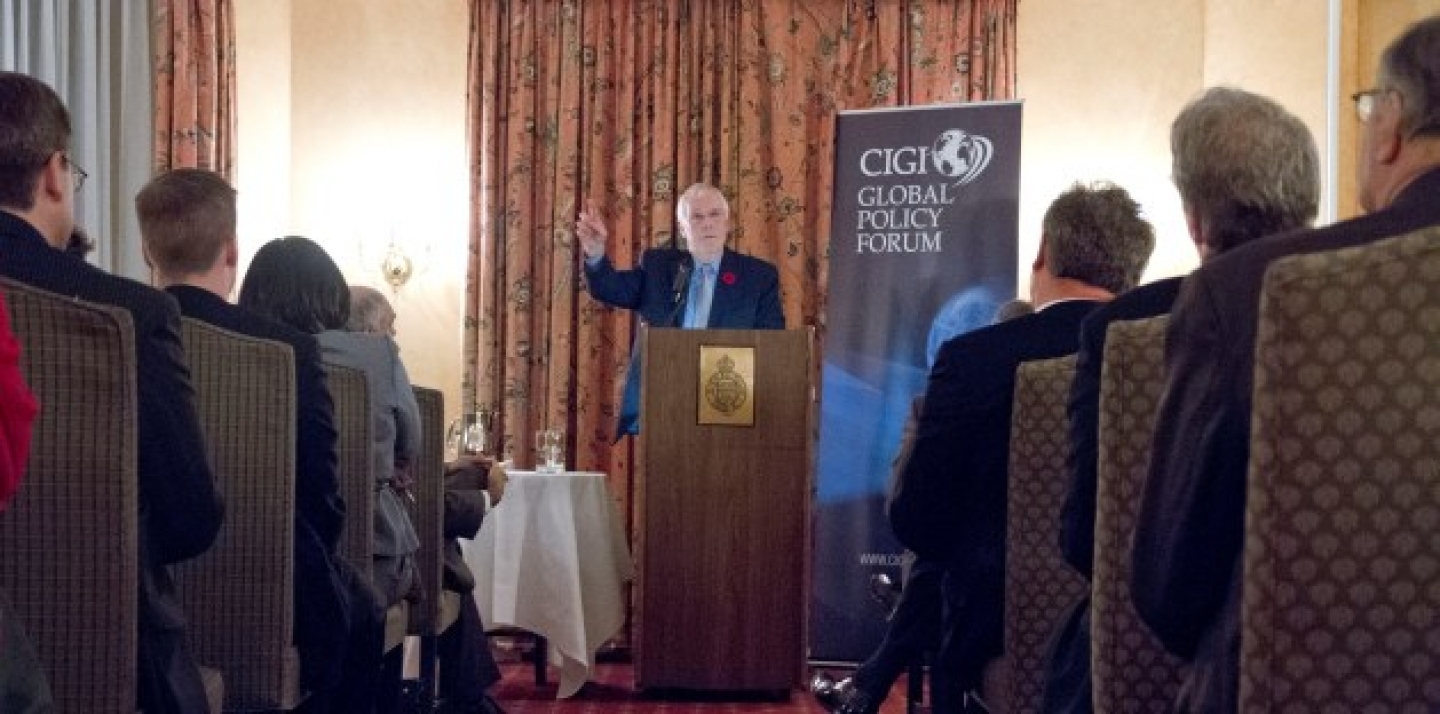 If you're in the think-tank business, how do you reach the right audiences of policy makers and influencers?  Recently I wrote about some of CIGI's strategies to reach those who can make a difference; our methods include online publishing, conferences of experts, outreach to mass media, free public lectures and ongoing consultation with decision makers. All of these methods have the same purpose. They aim to increase the traction of good, innovative ideas for improving international governance to build a more prosperous, sustainable and secure world.
Yesterday, for the very same reason, CIGI launched a new channel of dialogue — the CIGI Global Policy Forum. The forum is a series of lectures by global policy experts, to be staged in Canada's federal capital, Ottawa. It is an invitation-only event — but those attendees come from a broad array of organizations including government departments, business, academia and diplomatic circles. The venue is the venerable, 147-year-old Rideau Club. 
Our inaugural guest speaker was CIGI Distinguished Fellow Paul Jenkins, former senior deputy governor of the Bank of Canada. His topic was "Global Economic Trends and Challenges: A Canadian Perspective."
Paul opened his remarks by warning the audience that he would not be offering "roses and rainbows," but rather, a clear-eyed assessment of the struggling global economy.  Growth remains slow among western developed nations, where leading economists have gloomily revised their forecasts downward. Paul walked the audience through several of the challenges facing the world's increasingly interdependent economies, including the Euro zone debt crisis — for which he prescribes alternatives to the current over-reliance on austerity measures — as well as ongoing economic imbalances, the sustainability threat of climate change, and the continuing laxity in financial regulation at the international level that leaves us all vulnerable to recurring market shocks.
No need for me to describe all of Paul's informed and practical insights into these serious economic challenges. Instead, you can hear it straight from him — just as you can hear any of our future speakers.
And no need to trek to Ottawa or the Rideau Club, where seating is limited in any case. Thanks to the wonders of the Internet, we are delivering the new CIGI Global Policy Forum to the whole world — by posting the video online shortly after each event. Please consider yourself invited.