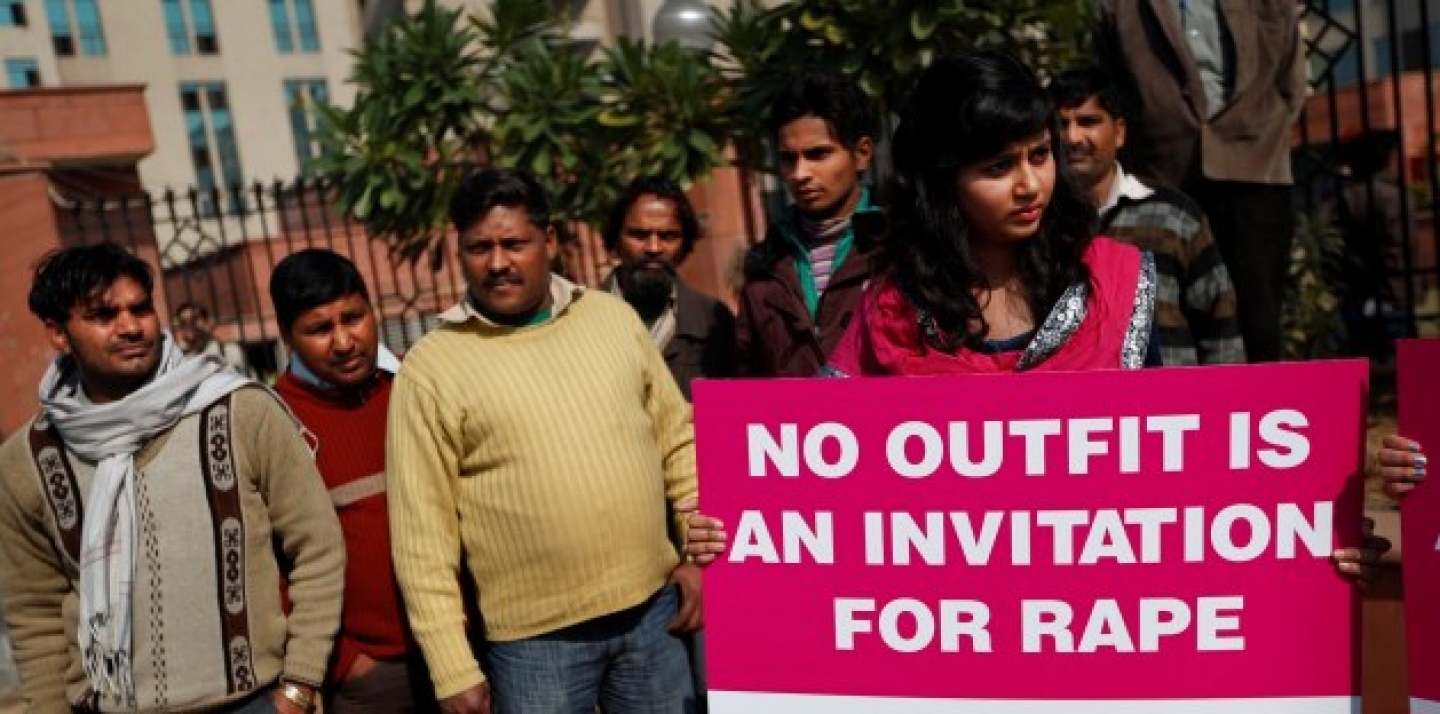 India is a very angry nation these days. The past year did not bode well for its citizens. The economy underachieved, the stock exchange floundered, and politicians were once again caught red-handed embezzling millions from the country's coffers. By rallying the populace to fight against corruption and introduce a civilian ombudsman bill, social activists, Anna Hazare and Arvind Kejriwal shook the very foundations of India. Secularism took a nosedive while self-proclaimed saints hiding behind the thin veil of religion spat venom against other sects. Students from Northeast India, who already occupy a very tense place in Indian society, were scared into submission by communalist forces. Last, but certainly not least, with persistent defeats and negative speculation, the national cricket team was weighed down by indecision and underperformance. The final straw for many, however, was the vicious beating and gang rape of a 23 year old female medical student in New Delhi.
The student, along with her companion, went out for a movie on a Sunday evening. While returning home, they boarded a bus, which they thought would drop them home. Instead they were met by six men who beat the couple with an iron rod, which they then proceeded to use to rape the woman for the next 90 minutes. Once the ordeal was over, she was thrown out of the bus and onto a busy flyover with broken ribs and ruptured intestines. For more than an hour, the public and (evidently) a few police vehicles that drove by that road were seemingly and inhumanely apathetic to the condition of the victims. The police eventually arrived late in their typical fashion, and the two were admitted to hospital. While the male companion is making a recovery, the 23 year old underwent numerous operations, and ultimately succumbed thirteen days later at Mount Mary Hospital in Singapore.
Her death came as a shock to the nation. There was an outpouring of grief and anger from all sectors of Indian society. Men and women from all walks of life, from every city took to the streets to protest against the lax attitudes of the government, the police, and the utter failure of a social infrastructure that allowed such a brazen act of sexual violence to occur. Since the victim was unknown, she was christened with names like Nirbhaya (fearless), Amanat (treasure), Damini, (lightning) and Jagruti (awareness) (Jan 06, 2013).
Several Bollywood A-list celebrities, like Amitabh Bachchan and Karan Johar, were outspoken in lending their voices to the victim's pain (Dec 30, 2012). Many wanted the harshest penalty for the guilty. As you read this, the government is trying to introduce a new bill which, if passed, allows rapists to be medically castrated. The event also garnered widespread international attention. While Parisians held a silent demonstration and submitted a letter to the Indian embassy demanding better rights for women, Torontonians were equally vocal in their protests and wanted Ottawa to chide the Indian government for its negligence towards the rising rate of sexual crimes against women.   
While there was grief and anger, considerable ignorance was also in evidence. Out came the petty politicians and pseudo-religious clerics to offer their two cents worth of "wisdom." Some blamed modernity while others said the effects of western civilization were responsible. Mohan Bhagwat, chief of the right-wing Hindu fundamentalist party Rashtriya Sevak Sangh (RSS) said that "such crimes hardly take place in 'Bharat' [India in Sanskrit], but they frequently occur in 'India'" (Jan 08, 2013); inferring that the 'westernization' of Indian cities was the reason behind the increasing cases of rape. Abhijit Mukherjee, the son of the President of India, courted controversy when he called the anti-rape protests "highly dented and painted" (Dec 28, 2012). He added that women who protested in the day would also be found in bars and discotheques at night. One politician exhibited his inherent sexism when he proudly announced in a news conference, "only bad girls get raped" (Mar 19, 2012). Asaram Bapu, another pseudo-religious cleric, stated that if the victim addressed the rapists as her brothers and held their hand when they were about to do the "misconduct," the rape might not have happened (Jan 07, 2013). He also went on to say "galti ek taraf se nahi hoti hai" (mistake is never committed from one side only); implying that the victim must have provoked the rapists for them to commit the deed (Jan 08, 3013).
Rather than tackling the issue of rape and sexual violence, several communities blamed women. Certain Khap panchayats (local community councils) present in the northern state of Haryana issued a decree banning women from carrying cell phones and wearing jeans or any other clothing that might "invite trouble" (Jan 08, 2013). A police commissioner in the western state of Maharashtra wanted women to carry red chili powder which they could blow in the eyes of the perpetrator in case they were molested or 'teased' (a common Indian euphemism for sexual harassment) (Dec 21, 2012). And hence the grotesque tradition of blaming the woman continues.
This entire ordeal is shocking, but definitely not surprising. Such rapes are common, and have always been prevalent in Indian society. Rapes are rarely reported by the families of the victim so as not to bring shame on the family. But there is something very interesting about how the rape of this 23 year old Indian woman is being perceived by Canadians and the South Asian diaspora.
While reading the comments on websites of eminent newspapers, one could see the vitriol that people had penned. Some asked for a complete trade ban on India, while others wondered why the Canadian government were allowing "such people" (Indians) into the country? It was disconcerting to see such self-proclaimed saintliness from North American readers, who have seemingly forgotten the level of police indifference to the disappearance of aboriginal women from downtown Vancouver (Dec 19, 2012), and the recent glut of college sexual violence being 'hushed up' (as the case of Lizzy Seeberg's suicide at Notre Dame has recently exposed) (Mar 26, 2012). And to freshen one's memory, wasn't it a Canadian police officer who declared that if women would like to prevent rapes, they should "avoid dressing like sluts" (Apr 3 2011)? The point is that every society has its own form of rape culture [1]. But to generalize that to an entire national population is nothing but foolishness.
Another angle through which this unfortunate story could be approached, however, is how the Indian Diaspora in Canada perceived and responded to the news. Here lies the vexed debate over integration, and the assumption that after immigrating to Canada, people quickly assume the roles and responsibilities of Canadian citizenship (including, perhaps, slightly more enlightened notions of sexual equality). Many consider the lifestyle of the diaspora to be a model that can overcome societal and civil woes "back home." Unlike "back home" where women are expected to be submissive, obedient, and meek, Canadian culture is supposed to allow them to be strong, independent and liberated. Consequently, when South Asian-Canadian women are intimidated, assaulted, raped, or even killed, there is a very uncomfortable debate about whether these events represent the 'west's' or the 'east's' version of rape culture [2].  In terms of our project's focus on diasporas and development, this appalling case highlights an unnerving challenge to simplistic assumptions about just where 'development' or modernity resides, and how migration might change people's outlooks on matters such as sexual equality.
If the gruesome murder of 16 year Aqsa Parvez reminds us of anything, it is that honour killings exist here in Canada too (Jul 16, 2010). Contract killings have been carried out by the families of the groom and bride. Canadian-born Jaswinder Kaur Sidhu, for example, was killed in India by contract killers because she secretly married a rickshaw driver, much to the chagrin of her family in Canada (Jan 09, 2012). Therefore, the idea that the lifestyle of the diaspora is a sharp contrast to the gendered politics of "back home" is too simplistic. In some ways the diaspora may transport and transnationalize certain patriarchal practices.
This leads to another quandary: can some members of the diaspora play a role in transforming the culture of rape in India along the lines some Indian activists have called for?[3] The diaspora has always been interested in investing in India, as long as the investment yields financial profits. They tend to invest in companies and organizations that reap financial rewards. That is not to say that the diaspora does not engage in philanthropy; it does. But the philanthropy is often educational or religious. Millions are sent each year to build temples and gurdwaras in India [4].
It is in the nature of things in India that protests often begin with a spark, but end with a fizz. With the economy showing signs of life and the cricket team winning the One-day International series against England, there was a chance that people would quickly forget the anonymous victim and carry on with their daily lives. But not this time; her story is still very much part of India's daily consciousness. A month after the ordeal, Indians still open their newspapers to find at least one front-page article about the rape. The inner pages contain stories and commentaries about gender violence and abuse. Updates from the court trials are frequent on newspapers, television channels and social media. The rape and other gender issues remain very much a part of everyday conversation for Indians. Our concern is that once rapid retribution is meted out by the newly-formed fast track court, people will feel the issue has been addressed; but, it will not. Widespread change is necessary, and political and cultural will is needed. Local protest movements have certainly gained some traction, but we have seen in the past how activist groups limit their feminist and international exposure for fear of increasing the suspicion of powerful local patrons and leaders [5]. In this case systemic change is needed. We are left with two questions that speak directly to our project: should the Indian Diaspora play a role in this fundamental process of cultural change (or must it be left to those in India?), and, considering the very grey map of gender rights today, can the diaspora even be part of the solution to this kind of 'development' agenda?[6]
---
[4] For example a recent report on Civil Society in Changing India (PDF) by the Society for Participatory Research in Asia (PRIA) states that the diaspora has a tendency to donate to "religious and semi-religious parts of civil society," but does not otherwise mention the diaspora again in reference to how to promote civil society in India. 
[5] The case of the Bhopal Gas Affected Women Workers' Campaign (or Bhopal Gas Peedit Mahila Udyog Sangathan) is an interesting one to consider. As Scandrett and Mukherjee (2011, 2001) argue, the groups' international recognition was not seen in Bhopal as a reflection of their hard work, but rather: "For many in this non-literate culture of personal loyalty, this ['courting' of international recognition] amounted to betrayal." Scandrett, E.,  and Mukherjee, S. 2011 "Globalisation and abstraction in the Bhopal survivors' movement." Interface, 3(1), 195 - 209.
[6] For an example of an advocacy and awareness project, see the HarassMap.org which allows reports of sexual harassment to be anonomously submitted via SMS messaging.