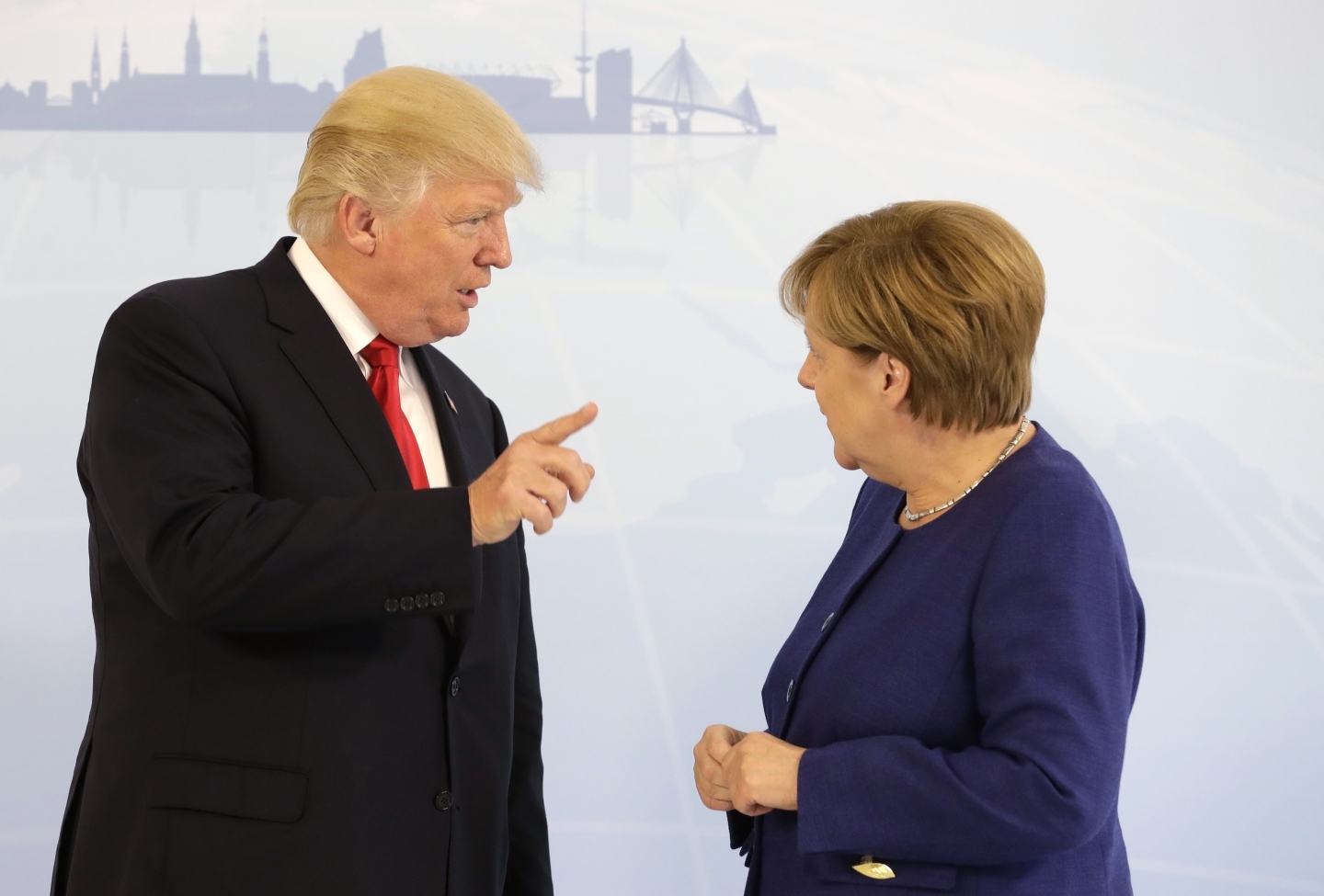 Tensions are running high in Hamburg this week, as thousands of protesters take to the city's streets and waterways ahead of the Group of Twenty (G20) meeting of global leaders set to take place July 7-8. While Chancellor Angela Merkel has welcomed the antiglobalization activists as a way to demonstrate Germany's commitment to free speech and assembly, she has also ensured a police presence of 21,000 officers in a bid to keep violence from erupting.
Inside the negotiating rooms, tensions between heads of state could also threaten Merkel's ability to forge consensus on major economic and environmental issues. Can she keep world leaders committed to free trade and a low-carbon future, or will a newly protectionist United States steer the global agenda in a more nationalist direction or split the G20 apart?
The summit of leaders from the European Union and the world's 19 largest economies will tackle a broad agenda that extends beyond a narrow reading of the G20's original purpose of promoting global growth and financial stability and will include: women's empowerment; global health; the digital economy; fighting terrorism; and a host of other issues.
1. Promoting inclusive growth
Merkel said protesters' concerns have informed the G20 agenda. "If we simply try to carry on as we have in the past, the worldwide developments will definitely not be sustainable and inclusive," she said. "We need the climate protection agreement, open markets and improved trade agreements in which consumer protection, social and environmental standards are upheld."
Populist movements have focused on international trade, but technological change, automation and slow economic growth are having a greater impact on inequality than trade, said Thomas Bernes, a distinguished fellow at the Center for International Governance Innovation (CIGI). "Most of the leaders will want to endorse trade liberalization and reject protectionism and stress the need to address income inequality," he said.
Organizers have anchored the summit's agenda around three themes: building resilience; improving sustainability; and assuming responsibility.
2. Bolstering the world economy and financial system
Building resilience includes the core goal of bolstering global growth, as well as a constellation of other economic and financial issues: strengthening financial markets, institutions and systems; improving economic governance; renewing commitments to free trade; and fostering strong job growth.
While the G20 agenda calls for structural reform as the solution to subpar economic growth, member countries could also accelerate productivity growth and spur gross domestic product gains by undertaking a massive and coordinated program of infrastructure investment, according to Malcolm D. Knight, a distinguished fellow at CIGI.
"Today the central economic issue stems from the repeated failure of many national governments to renew and modernize the basic infrastructure capital that supports productive activity in their economies," he argued in a recent paper. "This failure has left a legacy of rusting bridges, obsolescent factories and deteriorating mass transit and freight transport systems."
Addressing the infrastructure deficit via public–private investment partnerships is essential to moving global growth in the direction of the G20's goals, Knight concluded. However, Germany could be the biggest stumbling block to such an effort. "They've been very resistant to any talk of fiscal policy coordination," says Matthew Goodman, the Simon Chair in Political Economy at the Center for Strategic and International Studies.
 

What is the G20 and why does it matter?

Co-founded in the late 1990s by former Canadian Prime Minister Paul Martin in the wake of the Asian financial crisis, the G20 took on increased prominence after its first leaders' summit in 2008, where attendees tackled problems presented by the global financial crisis. The move added emerging nations to the G7 group of rich countries that had previously dominated international economic policy making.

The 20 member countries represent more than 80 percent of the planet's wealth and 80 percent of global carbon emissions. They are also major donors to international financial institutions such as the World Bank, the IMF and the United Nations, so their commitments can have wide-ranging scope. Members include Argentina, Australia, Brazil, Canada, China, the European Union, France, Germany, India, Indonesia, Italy, Japan, Mexico, Russia, Saudi Arabia, South Africa, South Korea, Turkey, the United Kingdom and the United States.
3. Climate and energy: The elephant in the room
With the US withdrawal from the Paris climate accord, a key question in Hamburg will be whether other countries will shift their positions in response to the Americans and how that will affect the outlines of climate change policy that will emerge from the G20 summit.
"The elephant in the room is the US," said Bernes. "They are isolated, and the balancing act will be to see whether compromise language can be found that allows both sides to argue that they did not back down."
Energy production and exports are likely to be among the issues covered by US President Donald Trump and Russian President Vladimir Putin in their first face-to-face encounter since the former's election in November. Instead of an informal "pull-aside," the countries have agreed to an official bilateral meeting, a format that includes public remarks by both leaders and elevates the importance of the meeting. As the United States has stepped back from its climate commitments, China has worked to strengthen its global leadership on the issues, so Premier Xi Jinping will be a key player to watch in Hamburg.
Given that the G20 countries are responsible for about 80 percent of global energy use and carbon dioxide emissions, this is an arena where the leaders at the summit can have a major impact. "A secure, economically efficient and greenhouse-gas neutral energy supply accessible to everyone is a fundamental prerequisite for economic growth and prosperity, and one of the main priorities of the G20," said the group in its published agenda.
4. Building climate-resilient infrastructure
Investments in sustainable, low-carbon, climate-resilient infrastructure are seen as crucial to achieving both economic and environmental goals. As the cost of energy technology and equipment has fallen, new energy systems have become cheaper to build, run and maintain, especially compared to fossil fuel-based systems, which create high external costs for society in the form of pollution, impaired health and other negative impacts.
To generate those investments at the scale needed for impact, though, governments and private sector partners will need to explore new financial structures that reduce the risk and uncertainty around green finance projects. That could include user fees levied on citizens, long-term contracts for payments from governments to private contractors for building and maintaining infrastructure, or various mechanisms allowing governments to tap into the increased property value carbon-lowering transit investments create for private landowners.
Even for companies outside the energy industry, the G20 has also been pushing for better disclosure and measurements of climate risks. A G20 global task force recently released a report outlining a voluntary framework for companies to disclose the financial impact of climate-related risks and opportunities. More than 100 companies, including Royal Dutch Shell and Virgin Group, have signed on to the recommendations.
Along with protecting the climate and promoting sustainable energy, the G20's "improving sustainability" theme also touches on advancing the United Nations' 2030 Agenda for Sustainable Development, promoting health, maximizing the opportunities created by digital technology and empowering women.
5. Assuming responsibility for global challenges
With the world experiencing one of its worst refugee crises since World War II, addressing the causes of migration and strengthening efforts to help refugees will be a major policy concern at the summit. Germany has taken a leading role in pushing European countries to accept refugees from conflicts in the Middle East and Africa, while President Trump has been critical of those efforts and moved to sharply limit immigration from majority-Muslim countries. Agreement on these issues may be difficult to forge.
With the number and pace of terrorist attacks increasing, leaders at the summit will discuss how to combat terrorist financing. In addition, they'll look at cooperating against money laundering and corruption, especially in the wake of the "Panama Papers" and "Luxembourg Leaks," which revealed widespread and deep-rooted global tax evasion.
As technological progress accelerates, leaders will also discuss catalyzing innovation and international coordination to harness the internet and the digital economy to promote inclusive growth.
"Individual nations cannot provide for the necessary resilience and sustainability of the digital economy," said CIGI Senior Fellow Barry Carin. "International cooperation based on existing international law is the only avenue." Global leaders need to establish modern-day equivalents to standard railway track gauges, aircraft safety requirements and telephone standards, he said.
While the G20 assumed a prominent role in steering policy and a coordinated international response to the 2008 financial crisis, the group's impact has waned in the intervening years. With tensions between major powers on some of its key issues, it is unclear whether this year's summit in the heart of Europe's most powerful economy will help it regain its heft.