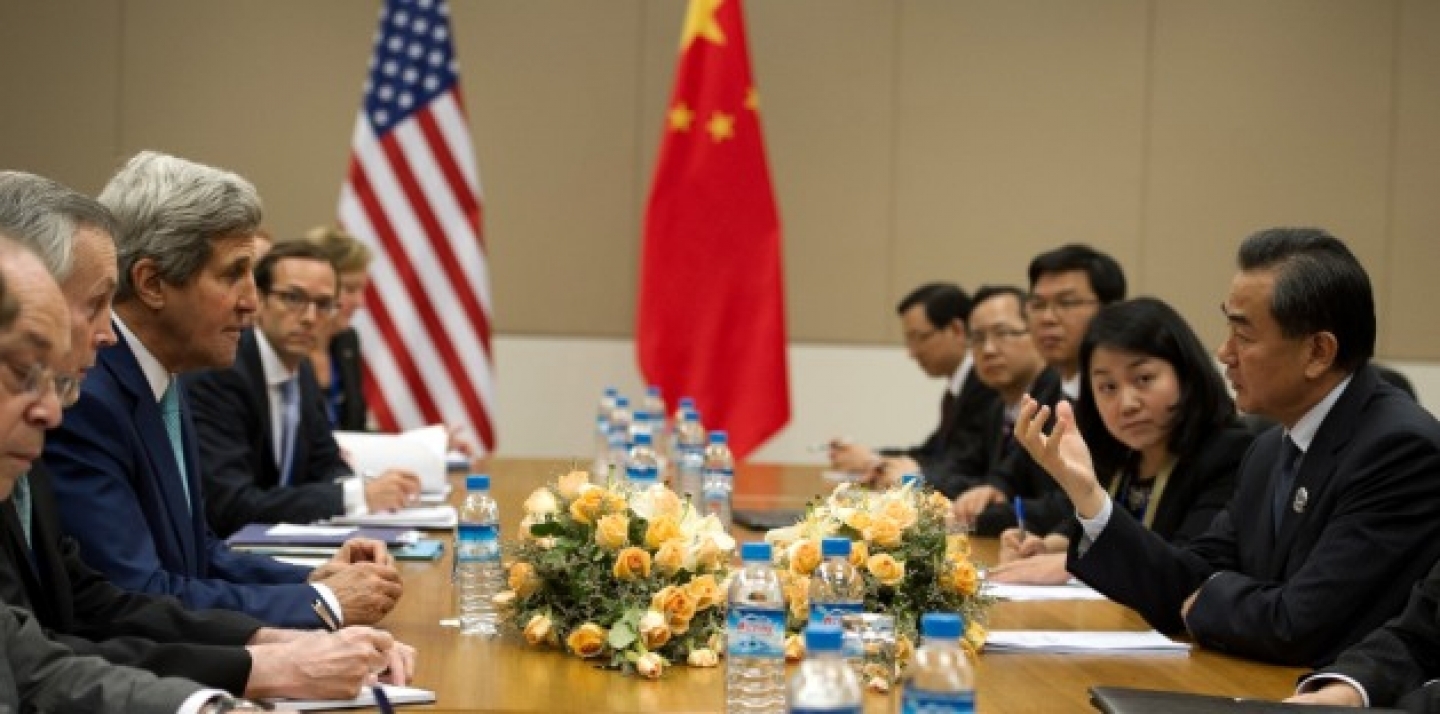 At a recent dialogue in Washington DC on the South China Sea and US policy, the audience received a treat: someone said something new. Michael Fuchs, Deputy Assistant Secretary in the Bureau of East Asian and Pacific Affairs, offered a concrete plan of action to defuse tensions in the South China Sea. He said US diplomats had already pitched the "freeze plan" to claimant states, including China, and the plan formed the basis of Secretary of State John Kerry's remarks at last weekend's ASEAN Regional Forum (ARF) and East Asia Summit meeting. However, the freeze plan is already on the rocks and is unlikely to yield anything in the way of progress on the South China Sea disputes. This is too bad because it's a very good idea.
The freeze plan is basically designed to halt actions made by claimant states that are believed to reinforce claims. The details should ideally be worked out by the claimants, but according to Fuchs the plan could involve a voluntary agreement:
Not to establish new outposts, which is already contained in the Declaration of Conduct of Parties in the South China Sea (DOC)
Define what constitutes provocative work on existing outposts. Routine maintenance could be permissible, but land reclamation and fundamental changes to structures forbidden.
Refrain from unilateral enforcement measures against long-standing economic activities in disputed areas.
It sounds very pragmatic, practical and low cost. Problematically, it is based on the erroneous assumption that countries in the South China Sea are interested in détente. Chinese officials seemed to reject the plan right away as according to one spokesperson, "The Spratly islands are China's intrinsic territory and what China does or doesn't do is up to the Chinese government."  Following the ARF meeting the Xinhua news agency decried the US proposal as "unconstructive." It is unsurprising therefore that China proceeds with plans to construct a number of lighthouses on features that it occupies.
However, China is not the only party to ignore the freeze plan since it was first tabled publicly on July 10. Taiwan, Province of China, has shown no sign of slowing the $100 million upgrade of its sole occupied feature, Itu Aba, one of the only Spratly features that could reasonably qualify as an UNCLOS Article 121 island. Vietnam also announced that it will build a hospital on one of the Spratly islands. This should certainly be seen as ominous sign. Given the paucity of human habitation on these islands (no one other than small military garrisons) a hospital would serve primarily to treat casualties of a military conflict in the area. So, Vietnam, Taiwan and China don't seem terribly enthusiastic about the "freeze plan".
The remaining three claimants seem willing to abide by the US call, likely because doing so involves no change in policy. Brunei occupies no features and has done little to aggravate anyone. Likewise, Malaysia seems reluctant to make serious changes to its occupied features, likely because its new naval base in Sabah will allow it to project the necessary power to protect its claims. For its part, the Philippines has gotten right behind the proposal. The Philippines Department of Foreign Affairs announced ahead of the ARF that it would launch a three stage diplomatic proposal to defuse tension in the area, chiefly built around defining what actions are "escalatory". It will be interesting to see what the Philippines has in mind. It still holds 11 Chinese fishermen that are awaiting trial for poaching in waters claimed by China. Although China appears to have accepted the sentences given to 12 fishermen caught fishing illegally in uncontested Philippine waters, the fate of these 11 are a different matter because China claims they have done nothing wrong. Is the Philippines prepared to surrender fishermen detained in contested waters to defuse tensions with China?
These differences of approach are explained by the asymmetry in power among claimants. China knows it is stronger than all other claimants and is also patently aware that there is little willingness in Washington to stop its "creeping expansionism" with force. America is busy for a declining hegemon: carrying out airstrikes in Iraq and gearing up to confront Russia over its actions in Ukraine. Vietnam has declared that it will arm its coast guard vessels and could reasonably argue that it did not accept Chinese drilling in its claimed waters. Taiwan knows that China will continue to do the heavy lifting to assert the Chinese claim, which gives Taipei the space to upgrade its lone feature as it sees fit. The remaining countries, by contrast, are either keen to remain below the radar, or in the case of the Philippines, desperately seeking a diplomatic and legal solution as doubt over the US deterrent grows.
One of the merits of the plan is that is it call on all claimant countries to opt into reciprocal agreements not to engage in provocative behaviour. It's also low cost to claimants since it freezes activities that entirely elective; further upgrades to features do nothing to strengthen legal claims. As noted recently by Assistant Secretary of State Danny Russel, the US has a stake in how states behave in their prosecution of territorial disputes. Indeed, Canadian Foreign Minister John Baird has echoed this sentiment saying "We [Canada] even have a couple of our own. We deal with these peacefully". Properly implemented, the agreement could defuse tensions.
However, this good idea is unlikely to go anywhere because, from the Chinese perspective, the freeze plan is aimed at China. It seems to permit routine maintenance, such as that attempted by the Philippines at Ayungin Shoal, but forbid Chinese efforts to reinforce its occupied features as others have done. Indeed, from the Chinese perspective it ignores the "provocations" of others, yet punishes similar Chinese behaviour. According to one Chinese scholar, "…many Chinese believe that a rising China cannot tolerate any provocations from other states, not to mention any new loss of territory. Therefore, we see a major perception gap between those inside and outside China. When most of the world sees China's recent behavior as aggressive and provocative, the Chinese believe they are only protecting they own territory and rights left by their ancestors."
This brings us, once again, to the concept of empathy. One way for US policymakers to cultivate empathy with China is to highlight actions by other claimants that Washington is uncomfortable with. Even as US policymakers claim they are neutral on the claims, they then condemn China's U-shaped line despite the prominence of excessive claims throughout maritime East Asia. Likewise, they are quick to condemn the Chinese Air Defense Identification Zone in the East China Sea, yet have used the Philippines' term "West Philippine Sea" to characterize the disputed body of water in the South China Sea. This is not to suggest the US should cease calling out Beijing for its provocative behaviour. Rather, Washington should also consider, in the same breath, publicly calling out its own allies and partners. Doing so would counter Chinese misperceptions about US intentions as being aimed at Chinese behaviour specifically, rather than at provocative behaviour in general.
Washington should also consider, in the same breath, publicly calling out its own allies and partners. Doing so would counter Chinese misperceptions about US intentions as being aimed at Chinese behaviour specifically, rather than at provocative behaviour