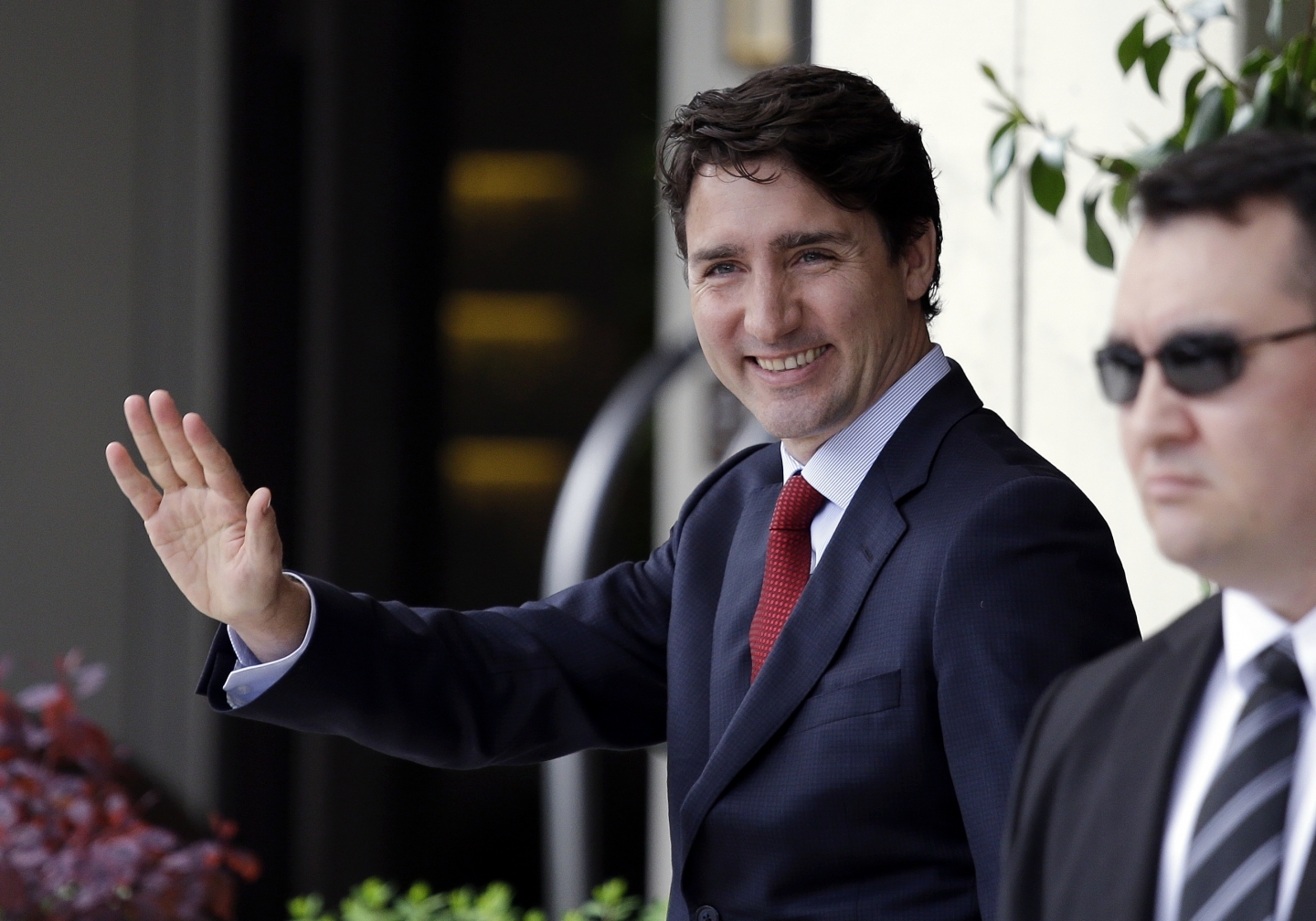 Canada shimmied away from Donald Trump's America with a three-step.
First, Foreign Affairs Minister Chrystia Freeland let the United States know that the time had come for them to see other people.
"The fact that our friend and ally has come to question the very worth of its mantle of global leadership, puts into sharper focus the need for the rest of us to set our own clear and sovereign course," she said in Parliament. "For Canada that course must be renewal, indeed the strengthening, of the postwar multilateral order."
As a tangible expression of independence, Cabinet approved a 70 percent increase in the country's military spending over the next 20 years.
The third step came when the government overhauled Canada's international aid budget around feminist principles.
All of this happened within a matter of days in early June. Prime Minister Trudeau needed separation. He had bent his politics to accommodate Trump, apparently to reduce the risk of triggering a protectionist backlash that would hurt trade. Then Trump quit the Paris climate agreement, an achievement with which Canada is closely aligned. Some in Ottawa appeared to hold out hope that Trump could be charmed into joining the global consensus. Such talk ended after the United States left the fight against climate change. Freeland made a point of registering Canada's disappointment in her speech.
Canada's pivot away from the United States was described widely as a success. It was subtle enough to avoid causing offence, yet Freeland left little doubt that Canada's true allies were those who believed in the global order. Still, there was something missing from this highly orchestrated performance: trade.
Freeland, Defence Minister Harjit Sajjan and International Development Minister Marie-Claude Bibeau were the stars of the show. International Trade Minister François-Philippe Champagne was excluded from a turn in the spotlight.
It's a missed opportunity because Trudeau's trade priorities would have benefited from the treatment given defence and official development assistance. Not everyone is convinced that Freeland's pledge to "strengthen" the multilateral order applies to the World Trade Organization (WTO), the pillar that has supported international commerce for decades. Champagne's mandate letter from Trudeau doesn't even mention the WTO, and instead emphasizes doing trade deals with China and India.
Freeland covered trade in her speech. She called Canada a "trading nation," albeit one that sends more than 70 percent of its merchandise goods to a single country. She mentioned the North American Free Trade Agreement, saying Canada looked forward to working with its "continental partners" to "modernize" the agreement, even as the country plans to "intensify" efforts to diversify trade. And Freeland spared a thought for the WTO. "We believe in the WTO and will continue to work to make it stronger, and more responsive to the needs of ordinary people in Canada and around the world," Freeland said.
Nothing wrong with any of that, but if Trudeau was serious about making a statement, he needed to do more. Freeland's comments on trade could have been uttered by any Canadian foreign minister of the past couple of decades. It left the impression that when it comes to trade, nothing really has changed. Trudeau may have slipped from Trump's shadow, but the only trading relationship that Ottawa truly cares about is the one dictated by Washington.
Canada has done little to support the multilateral trading system lately. Its priority has been free trade agreements with the European Union, the star-crossed Trans-Pacific Partnership (TPP), and a handful of bilateral agreements.
That should change. Stephen Tapp, Ari Van Assche and Robert Wolfe spent a couple of years putting together an impressive volume of essays on trade for the Institute for Research on Public Policy. Among their conclusions: Canada must put the WTO back at the top of its list of trade priorities. They worry the Geneva-based institution is suffering from neglect. No one will confuse Trudeau for Trump; Canada clearly values the institution. But even after Freeland's speech, experts are unsure whether Trudeau's government cares about anything other than fighting Trump's protectionism and possibly doing a deal with China.
"It's far from top of mind," Wolfe said of Trudeau's interest in the WTO.
To be sure, these aren't the best of times for multilateral trade.
The Doha Round of free trade negotiations stalled in 2008, and many assume the effort is dead. Still, there is no better place than the WTO for a smaller economy such as Canada to score some wins. Former Prime Minister Stephen Harper joined the TPP talks reluctantly, in part because doing so meant accepting terms that were essentially dictated by the United States. It will be that way in any negotiation that involves a dominant partner. That is true of the WTO, but to a lesser extent because there is more than one dominant player at the table. And because most of the global economy is in play, the potential gains are much larger.
Champagne's spokesman, Joseph Pickerill, insists the WTO is a "central" pillar of Canada's trade policy.
In 2016, Canada ratified the Trade Facilitation Agreement. Canada has taken a leading role in pushing for faster resolutions of trade disputes, and it is "actively engaged" in the agenda for the next ministerial meeting in Buenos Aires in December, Pickerill said. Champagne also is pushing the institution to think harder about how its policies affect common people, including a call for increased transparency.
There is a business-as-usual feel to all of that. Granted, what is routine for Canada in Geneva might rank as an above-average contribution for many of the WTO's 163 other members. But as Wolfe argues, Canada is among a small group of countries that can reasonably be expected to do more than the minimum.
Canada is too small to have its motives seriously questioned, yet it still owns the bureaucratic and intellectual resources necessary to influence the future of the institution. For example, Canada would be well placed to counter the knee-jerk nationalism of the Trump administration. Lawrence Herman, a trade lawyer, urged the Trudeau government to work harder at improving the dispute-settlement process, as the WTO could prove an important shield against protectionists. Wolfe and his co-editors believe Canada should annoint itself the WTO's champion before it is too late.
"Detailed forecasts of the shape of the world economy in 10 or 20 years are bound to be unreliable," they write. "The WTO is therefore Canada's best hedge against unavoidable uncertainty — part of a future-proof trade strategy that allows Canada to take advantage of growth wherever it occurs. The WTO will wither, however, if duelling bilateral and regional trade deals come to define the universe of trade agreements."
If Canada truly believes in the WTO, it will do more to rally other countries to its defence. Restating bromides won't be enough.