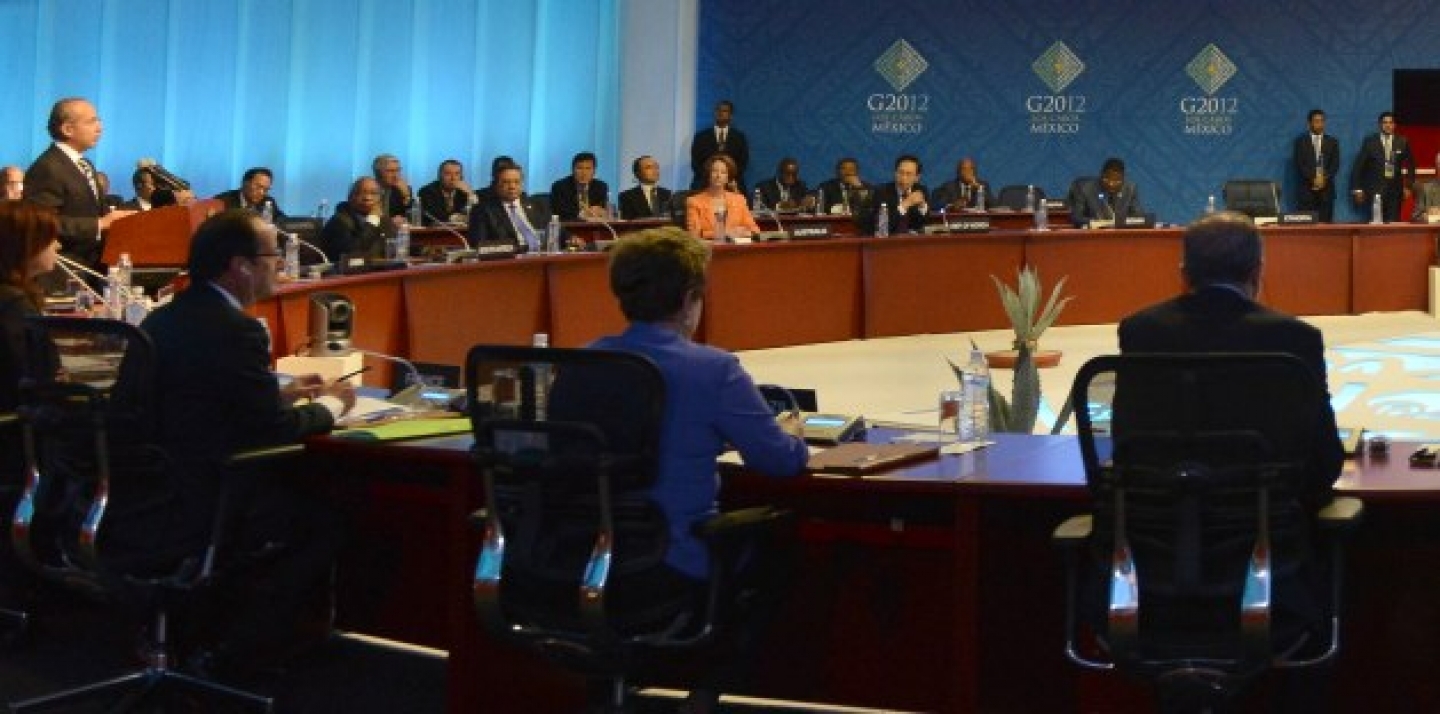 From the perspective of CIGI's Global Economy Program, the Los Cabos summit featured some interesting developments. Given the severity of the turbulence now buffeting the euro, it was essential that something be said, if not done, to reduce the pervasive uncertainty hanging over the euro area. As noted in a post-summit commentary, the summit's declaration reveals the extent to which pressure was brought to bear on the euro-area members to address the problem.
The message was clearly received. The question is whether it will be acted on in time to avert more disruption that would further cloud the prospects for global growth. Time will tell if markets heard enough to give the Europeans breathing time to act. (I'm sceptical, but hope to be pleasantly surprised by the results of the euro zone summit next week.)
There are other important elements of the Leaders' Declaration that deserve to be highlighted. Particularly noteworthy from CIGI's perspective is the endorsement of "recommendations and the revised FSB Charter for placing the FSB on an enduring organizational footing, with legal personality, strengthened governance, greater financial autonomy and enhanced capacity to coordinate the development and implementation of financial regulatory policies, while maintaining strong links with the BIS."
This represents another incremental step on the road to building the governance structures for global capital. And it was the subject of a joint CIGI-Bank of Canada-Banco de Mexico conference in April. It reflects the fact that the remarkable process of global financial integration, driven both by market forces and the liberalization of capital controls, outpaced the international regulatory framework. The result was globalized capital, but nationally-based regulation.
This is yet another "governance gap" that needs to be filled.
Prior to the crisis, the gap between markets and regulation allowed globally-active financial institutions to exploit opportunities for regulatory arbitrage to take additional risks onto their balance sheets without appropriate capital reserves or liquidity buffers. The result was the growth of the so-called shadow banking system, an explosion of over-the-counter derivatives, and inadequate prudential standards.
These are the key challenges that confront Bank of Canada Governor Mark Carney in his capacity as chairman of the Financial Stability Board. In hindsight, the Los Cabos declaration could represent an important step in equipping him and the members of the FSB with the tools needed to address them.